From Gloom to Glory - by Mir Ranjan Negi
Section 1 | Section 2 | Section 3
Page 1
Page 2







Page 3
Page 4


Section 2 - 1998 Asiad

Glory in Bangkok

Tears were rolling down my cheeks, and I remembered my wife's anxious face when the appointment letter as a coach had first come.

Someone gave me a cellphone, and I called her to share my joy. The words stuck in my throat and I kept crying. My life had come full circle.
Page 5
Page 6
Page 7
Page 8


or the final, the Queen Sirikit Stadium was packed to capacity. Indian flags were flying everywhere. South Korea scored their first goal in the 6th minute, off a penalty corner direct conversion. Dhanraj Pillay scored the equaliser in the 22nd minute, with a reflex flick off a rebound off a penalty corner drive by Dileep Tirkey.
The two teams tied 1-1 at the end of regulation time, and the 15 minutes of extra-time failed to produce any goal. Now came the tie-breaker. It was a tense moment for us on the bench - we had to choose the shooters for the tie-break, and also the goalkeeper between Ballal and Subbaiah. Dhanraj and a few senior players were consulted.
Kaushik asked Subbaiah to warm up. Ballal was my first choice as he is one of the most confident persons I know, both on and off the field. When I went to him, he asked me in turn, "Coach, do you have faith in me?", to which I said yes. Ballal said, "Just leave it to me then."
This was a very crucial decision, as Subbaiah had won three or four tie-breakers for the country, and was a specialist in such situations. We took a gamble on Ballal; had it gone wrong, we would have been crucified. Like a true sportsman, Subbaiah took this decision well.
Both Ballal and Subbiah had been shown the video recording of the 1998 Champions Trophy match between Australia and South Korea, which had ended in a tie-break. Everyone in the team had repeatedly studied that game. Ballal knew which Korean player would push to which corner.
There was complete silence in the otherwise full stadium. Ballal let in the first stroke. Then we equalised. Ballal dived to his right and saved the second stroke by Yoo Moon-Ki. India scored again. Ballal let in the third, but again saved the fourth stroke by Jeong Jing-Dong.
We were two goals ahead, and when Mukesh Kumar's feeble fourth stroke trickled in, the entire stadium errupted in elation. Everyone ran towards Mukesh and Ballal, and there was soon a huge pile up of happy hands and flailing legs.
Tears were rolling down my cheeks, and I remembered my wife's anxious face when the appointment letter as a coach for the national team had first come. Somebody gave me a cell phone, and I called her to share my joy. But the words stuck in my throat and I kept crying, unable to speak. It was like my life had come full circle.
Back in 1966, India had beaten Pakistan in the same venue to win the gold medal. Thirty two years later, India became the Asian champions once again. It was the most sentimental and emotional of all the gold medals that India won in the Bangkok Asiad.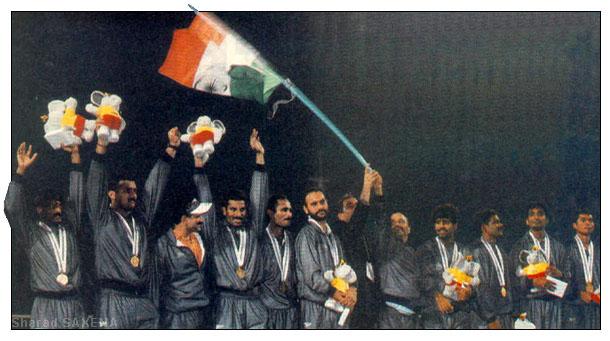 Indian team on the victory stand - Photo courtesy India Today