From Gloom to Glory - by Mir Ranjan Negi
Section 1 | Section 2 | Section 3
Page 1
Page 2







Page 3
Page 4


Section 3 - Chak de India

Death of Abhi Ranjan

I asked Helen Mary to look at me just before the opponent's penalty stroke, and dive in the direction in which I waved my hand.

Helen Mary went on to save 3 out of 5 penalty strokes, and India won the inaugural Afro-Asian Games women's hockey title.
Page 5
Page 6
Page 7
Page 8


ctober 21, 2005 was one of the darkest days of my life, when I lost my eldest son - Abhi Ranjan - in a tragic motorcycle accident. Abhi was only 19 years old, and was doing extremely well in his final year of hotel management when he was cruelly snatched away. Abhi had just been promised a lucrative job in Australia. Life suddenly seemed to have lost all meaning, and my wife Vinita and I were shattered.
Friends and relatives stood by us in our hour of grief, and many came forward to hold my hand at that time. The then director of the Sports Authority of India, Olympian M. P. Ganesh, along with his wife Prema, and M. K. Kaushik, the present Indian women's hockey coach and my contemporary in hockey, and his wife Usha, came all the way from Delhi to Mumbai to comfort me.
When I went to see Ganesh off, he took me aside and said, "Negi, even though I know this is not an appropriate occasion to talk to you about a new venture, I think this will keep your mind occupied during this trying time. I had a chance meeting with the renowned film maker Yash Raj Chopra in Delhi. He is planning a movie on women's hockey, and is thinking of casting leading actor Shah Rukh Khan. I feel you are capable of handling this project as you have the requisite coaching experience."
At first I refused to take up the assignment, as I could not think of doing anything in my current state. One evening, to pull us out of our gloom, Dhanraj Pillay, who is an old family friend, insisted that we go out for dinner. Along with my wife, and close friend Mayur Pandey and his wife, we went to Dadar. We were joined by Swaratmika, executive producer for Yash Raj Films. She was accompanied by a very simple looking, bespectacled person in cotton shoes. He was introduced to us as Shimit Amin, the director of the hit movie Ab Tak Chappan. I was still feeling out of sorts, and did not participate much in the conversation.
I received a call from Swaratmika a couple of days later, asking me to introduce her to some hockey contacts. The first couple of contacts I had suggested, Dhanraj Pillay and Clarence Lobo, were busy with the game. I thought of another good friend, triple Olympian Mervyn Fernandes, and briefed him about the film project. We both went to Yash Raj Films Studios in Andheri and met Shimit Amin, who introduced us to Jaideep Shahani, the script writer of the movie.
Two pages of the film script lay on his table, describing the characters of each girl in the cast. As I went through the pages, I was impressed by the hard work and research that had gone into the making of the script.
For most of the conversation I was quiet, but listening attentively to what Jaideep was saying. He recalled how he had stayed incognito as a doctor's relative in the campus of the Sports Authority of India, Bangalore, for a couple of months. That's where he painstakingly studied and researched the life of Indian women hockey players. He admitted that to make a film on women's hockey was one of the most emotional and challenging assignments of his life.
I finally shared with them an incident that I had never shared with anyone before. This took place when I was coaching the Indian women's hockey team during the 2003 Afro-Asian Games in Hyderabad.
Helen Mary was the goalkeeper at the time, and she had immense faith in me. During the Afro-Asian final against South Korea, when the match reached the tie-breaker stage, I asked Helen Mary if she could trust me to guide her through the penalty strokes, and she unflinchingly said yes. I asked her to look at me just before the opponent's penalty stroke, note the direction in which I waved my hand, and dive in that direction. The rest is a matter of record that Helen Mary went on to save three out of five penalty strokes, and India won the inaugural Afro-Asian Games women's hockey title.
After listening to me quietly, Jaideep stood up and hugged me saying, "Sir, this incident is just the climax we needed for our film"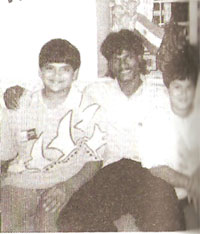 Dhanraj Pillay with Negi's sons