From Gloom to Glory - by Mir Ranjan Negi
Section 1 | Section 2 | Section 3
Page 1
Page 2







Page 3
Page 4


Section 2 - 1998 Asiad

Selected as Coach

My wife Vinita was dissuading me from accepting the assignment. Her apprehension was not without reason.

It took sixteen years for the pain to subside after the Asiad fiasco. Another tragedy would shatter the fragile life we had put together.
Page 5
Page 6
Page 7
Page 8


he year 1998 started on a positive note for me, exactly sixteen years after being in the wilderness after the 1982 Asiad debacle. I had just returned from a tour of the South with my family and close friends when I got the news that I had been invited by the Indian Hockey Federation (IHF) to select the Indian sub-junior team for a tour abroad.
I reached Tirupati on 16th January, 1998, to fulfill my first official hockey assignment after the 1982 Asiad. We stayed at the Tirumala Guest House, along with Tikken Singh and Charles Cornelius, a goalkeeper with a tremendous sense of humour and a story unparalleled in the history of Indian hockey.
The 1998 Asian Games were scheduled in Bangkok. For the first time, the IHF had the foresight to introduce a special coach for goalkeepers. Three names cropped up - Ashok Divan, Charles Cornelius and mine.
My chances for selection were slim. I could be reckoned as an uncontroversial candidate. Jyothi, who had been my colleague from my Combined Universities days, came forward to help me at this critical juncture.
I got the news of my appointment as one of the National hockey coaches on 3rd October, 1998. Redemption seemed to have arrived. I was delighted by the sudden spurt of phone calls which were pouring in from all over India.
I had waited so long for this news. After suffering in silence all these years since that fateful day in 1982, my dream of winning gold for the country could now become a reality. Naturally, I was very euphoric.
Still there were some uneasy feelings. My wife Vinita was reluctant and was dissuading me from accepting the assignment, lest there be another mishap and I again be made the scapegoat. Her apprehension was not without reason. It took sixteen years for the pain to subside after the 1982 Asiad fiasco. Another tragedy would shatter the fragile life we had put together.
Nandakumar Marar wrote in Mid Day: 'Negi's mind was a whirlpool of emotions after being told yesterday of his appointment as one of India's national hockey coaches. For Negi, the news signalled the end of a nightmare and the beginning of a dream. One of the culprits of India's rout at the hands of Pakistan in the 1982 Asian Games has been told that the past has been forgotten, and that Indian hockey needs his services in charting out its future.'
I knew I had to act again to make a fresh beginning, and my inner voice was helping me to redefine myself, saying that the Almighty would not let me down this time. And then and there I resolved to accept the challenge. I had a point to prove even to myself. I could see the pathway full of thorns, but my mind was without fear, and my head was held high.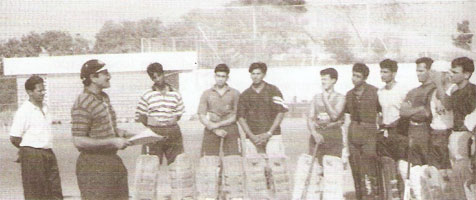 Negi coaching youngsters