From Gloom to Glory - by Mir Ranjan Negi
Section 1 | Section 2 | Section 3
Page 1
Page 2







Page 3
Page 4


Section 1 - 1982 Asiad

Foreword - Shah Rukh Khan

The film Chak de India was about sports; it could be any sport - hockey, cricket, football or chess. I am happy it was so well received because hockey is our national game.

Mir Ranjan Negi's From Gloom to Glory will further focus attention on this exciting game.
Page 5
Page 6
Page 7
Page 8


ield hockey has been a personal favourite sport of mine, and I hope my kids will play it one day. I do feel I am no one to comment from the outside on the state of Indian hockey, but I have always felt that if there is anything I can do as an actor, I should do it. By being part of the movie Chak de India, I have partly achieved my ambition. I am glad that Mir Ranjan Negi is doing his bit by writing this book to revive memories, and to bring back some of the lost glory to the sport of Hockey.
The film Chak de India was about sports; it could be any sport - hockey, cricket, football or chess. I am happy it was so well received because hockey is our national game. Mir Ranjan Negi's From Gloom to Glory will further focus attention on this exciting game.
I am glad Negi is doing something positive for the sport, without being cynical and bitter. His life is about achievement in the face of failure, and I am sure it will inspire many young people to come forward and prove their mettle. Failure is only a challenge - an obstacle to overcome. Negi's life should be a lesson to all to never quit, whatever be the odds.
I have played a lot of hockey during my school days. I was quite good at it, but when I played for the film shoots, I was horrible. The techniques of hockey have changed. Astroturf itself is very energy sapping. But I feel India has come to grips with the changing scenario and will get its act together very soon. The talent is there, the passion is there - only the will to win must be strengthened.
I believe the film has done its bit in educating people that hockey is a religion; that even though hockey is played with a stick and ball, it is not pool; it is not billiards; it is a different sport, it is a national sport! I would tell kids to give it a shot.
I was very moved by the part of the book which says that the hockey field is like a miniature India, and that sportsmen are a different tribe. They do not recognise colour or caste or religion, they only recognise the ideal of sportsmanship. Their religion is hockey. Their creed is that the more you sweat in practice, the less you bleed in battle.
I was also extremely touched to learn about hockey's unsung heroes, who played with almost no facilities, and risked all that they had for the love of the game. I was humbled to learn that they played not just with their bodies, but also with their soul.
I hope and pray that the glorious days of hockey in India will come back soon, and that there will be new Dhyan Chands, Govindas and Ashok Kumars who will bring back India's lost pride. I am certain that this book will inspire one and all. Chak de India!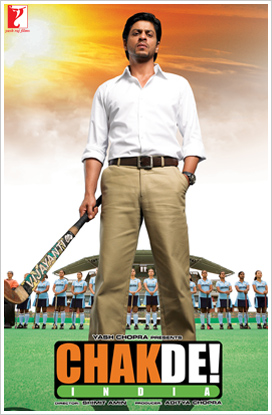 Movie still from Chak de India, courtesy Yash Raj Films