From Gloom to Glory - by Mir Ranjan Negi
Section 1 | Section 2 | Section 3
Page 1
Page 2







Page 3
Page 4


Section 2 - 1998 Asiad

Working with the Seniors

To throw a spanner into the works, Dhanraj and Ashish gave some adverse comments in the media against the Federation.

Imagine my position! The Federation which had agreed to bring back players from exile was being abused!
Page 5
Page 6
Page 7
Page 8


mong the goalkeepers called for the 1998 Asiad camp were Jude Menezes and A. P. Girish from Mumbai, and Teja Singh and Sandeep Shaukeen from Punjab. Right from day one, it occurred to me that I ought to shake things up in the goal to get results.
The first agenda on my mind was to bring veteran goalkeepers Ashish Ballal and A. B. Subbaiah back into the Indian camp. According to the SAI experts, Ballal's fitness was questionable, probably on account of his 94 kg body weight. However, I knew that we could not afford to discard an experienced and seasoned goalkeeper like Ballal.
Subbaiah was another experienced goalkeeper who had been used and dumped without any thought, and had become a shadow of his former self. These two only lacked some systematic physical training and goalkeeping skills training. I had no doubt that under my guidance, Ballal and Subbaiah would perform far better than other, more physically fit goalkeepers.
I took Kaushik and Dhanraj Pillai into my confidence. We then held a meeting with Dhanraj, Ashish and Subbaiah. Ashish and Subbaiah were apprehensive that they would be dropped midway or at the last moment. However, we were able to convince them of their continuity till the end. Dhanraj showed his remarkable sporting spirit by offering Ashish the captaincy.
Apart from Ballal and Subbaiah, there were a number of other players who were not called for the camp. Subsequently, upon our request, those players were included. The Federation for the first time agreed to give us complete freedom to evolve our strategies and tactics.
We sat with all the support staff and made a training schedule, working backwards from 6th December, when our first match of the Bangkok Asian Games was scheduled. It took us almost a week to complete the plan. Since the time was very short, we started getting up at 4 am in the morning. We had to see video games of teams like South Korea and Pakistan, and plan exactly what we were going to do in each practice session.
I heard the boys telling me that after a long time they were enjoying the training, and hence they were putting their heart and soul into it. I felt most of them intuitively knew that this was their last chance to attain glory.
However, to throw a spanner into the works, some of the players, including Dhanraj and Ashish, gave some adverse comments in the media against the Federation. Imagine my position! The Federation which had agreed to bring back players from exile was being abused!
The IHF's reaction was predictable. They wanted the players to be removed from the camp. I discussed the matter with Jyothikumaran, and persuaded him to pardon the players as it would cause undue damage to the team's performance.
The Federation was very sporting and generous. Both Ballal and Subbaiah were allowed to continue.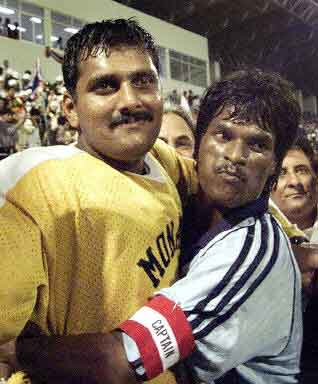 Dhanraj hugs Ballal after Asiad Final - Photo courtesy Sportstar