From Gloom to Glory - by Mir Ranjan Negi
Section 1 | Section 2 | Section 3
Page 1
Page 2







Page 3
Page 4


Section 2 - 1998 Asiad

Asiad Opening Ceremony

Our team manager was M. S. Malik, Inspector General of Police, Haryana. I came to know about the sad demise of Malik's young son. He treated me like one.

I found Malik very pious and pure of heart. He would often chant mantras with the team.
Page 5
Page 6
Page 7
Page 8


he Bangkok Asian Games were to be held soon. On 29th November, 1998, as is the custom with all Indian teams before a tour, we went to a temple, masjid, church and gurudwara, before heading for the railway station to go to Chennai. The whole station was reverberating with slogans and chanting of 'Long Live Indian Hockey!'.
However, when we reached Chennai, we were received by a lone person, Suresh. The boys had to pay for the coolies themselves. Two shabby buses had come to pick us up, and there were no officials to receive the team. We left for Bangkok the same night.
Dairy entry from 2nd December, 1998: "Asian Games Village - the old memories keep coming back - the atmosphere, the joy, the sorrow, the music. I am back again, maybe for the last time before my death, because I sometimes feel that I may not fit into the scheme of things of the IHF in the future."
It is such a great feeling when you see the Indian tricolour hoisted in the Games village, and the national anthem being played. We were allotted room no. 110 in the C9 block on the ground floor in a multi-storied complex. Our team manager was Mohinder Singh Malik, the Inspector General of Police, Haryana. He was accompanied by his wife Krishna.
I came to know about the sad demise of Malik's young son. He treated me like one. I found Malik very pious and pure of heart. He kept the entire team as one unit, and would often chant mantras with the team on the day of a match. His room was adjacent to our room, and since there was no helper with him, with pleasure I helped him do some small chores.
Dhanraj Pillay was selected as the flag bearer of the Indian contingent for the march past, and it was a very proud moment for all of us. The lighting of the Games torch and the fireworks during the Opening Ceremony were grand. In the march past, all the old bags, clerks and officials of the Indian Olympic Association (IOA) were fighting to walk ahead of the players.
The players kits arrived late, and when we distributed them, there were no shirts and ties. Also, Ballal's and my kit were missing. Our manager Malik threatened to boycott the march past if things were not rectified.
It is painful to see that the IOA spends crores of rupees on delegations, boarding and lodging of officials, but ignores players in important events like these. The IOA is filled with ex-armymen, some of them so old that our players had to carry their suitcases. The wife of the chef-de-mission was sick most of the time, and he was busy taking care of her.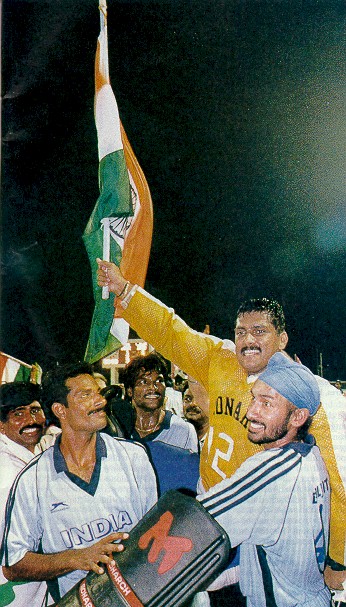 Victorious Ballal, surrounded by teamamates - Photo courtesy Sportstar