From Gloom to Glory - by Mir Ranjan Negi
Section 1 | Section 2 | Section 3
Page 1
Page 2







Page 3
Page 4


Section 2 - 1998 Asiad

Off to Bangalore

Ganesh had lost his only son, Aiyappa. Everyday, Prema would mention Aiyappa in some context or the other.

Prema is a very simple lady. Ganesh always treated Prema like a small child who had lost her precious toy.
Page 5
Page 6
Page 7
Page 8

flew to Bangalore airport and landed at 2:20 in the early morning, and reached NIS South Centre, Kengeri, which is about 20 kms away. I saw M. K. Kaushik, the chief coach of the Indian hockey team, brushing his teeth. No sooner did we dress up and go to the ground than we met M. P. Ganesh, the then Executive Director of the Sports Authority of India (SAI), South Centre.
Ganesh asked me sarcastically, "Hey man! What are you doing here?" He thought that since I was well acquainted with Jyothikumaran, I must have wangled my way into the national team.
It was a taunt, but I was not going to rise to it. With a smile, I said, "Sir, I have come here as a coach of the Indian national hockey team." Taken aback, Ganesh fell silent and continued with his exercises.
I was deeply impressed by the dedication and jovial nature of Kaushik. He had been in Mumbai during his days in Tatas, and was with me in the 1982 World Cup team. As he was involved in coaching for a long time, he knew practically each and every member of the SAI.
I could make out that Kaushik was extremely close to M. P. Ganesh; everybody in the SAI campus knew of this close relationship, and would always offer to help and please Kaushik.
The atmosphere of SAI Bangalore, like any camp of the military services, is very conducive to hard training. The presence of Ganesh made a big difference, as he was absolutely passionate about hockey.
I would accompany Kaushik to Ganesh's house every evening after dinner and discuss our plans. Prema, Ganesh's wife, would always give us some sweets or savouries to eat. As we started meeting more often, I was moved to learn of an undercurrent of sorrow in their life.
Ganesh had lost his only son, Aiyappa. Everyday, Prema would mention Aiyappa in some context or the other. Prema is a very simple lady. I have never seen her wearing any makeup, and she turns up in very simple saris even for important functions. Ganesh always treated Prema like a small child who had lost her precious toy.
Ganesh, who had earlier been callous with me, gradually started liking my work ethic and we grew close.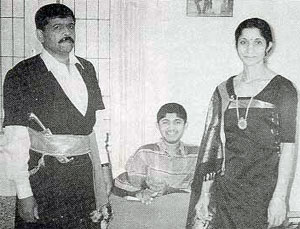 M. P. Ganesh and family - Photo courtesy The Golden Boot