From Gloom to Glory - by Mir Ranjan Negi
Section 1 | Section 2 | Section 3
Page 1
Page 2







Page 3
Page 4


Section 2 - 1998 Asiad

Road to the Final

After the win over South Korea, the strongest team in the tournament, Dhanraj was going to watch the next match when some Pakistani spectators passed some obscene comments.

A fight broke out and the Pakistani spectator was sent out of the stadium.
Page 5
Page 6
Page 7
Page 8


ur hockey campaign began on a strong note as we defeated Singapore, Bangladesh and China. Kaushik and I used to work till 1:30 am every night, analysing videos that I had shot, and selecting clips to be shown to the boys. There were team meetings before every match, where the whole action plan used to be discussed.
In the crucial pool match against South Korea, we dominated right from the beginning. We got six penalty corners in the first session, against only one for South Korea. Then Baljeet Singh Dhillon scored a gem of a goal from a long pass from Mohammad Riaz. Baljeet dodged two defenders and his backhanded hit from zero angle hit all the sides of the goalpost before ricocheting back to the half-line. We struck again, this time from a penalty corner by Mukesh.
In the second half, the South Koreans came back stronger and forced as many as six penalty corners. The Koreans scored off their third penalty corner. We started playing a completely defensive game, and even Dhanraj started falling back. As a result, the two Koreans who were guarding Dhanraj also got a chance to attack. We literally had to shout at Dhanraj to move up. Ballal made some very good saves, and India won the match 2-1.
It was an exhilarating feeling to win against the strongest team in the tournament. We had brought packed lunches, which we ate on the ground itself. As Dhanraj was going to watch the next match, some Pakistani spectators passed some obscene comments. A fight broke out and the Pakistani spectator was sent out of the stadium.
We were to play Japan in the semi-finals. We studied the tapes of all the previous matches of Japan. Most of the Indian players knew that this would probably be their last Asian Games, and wanted to give a fitting reply to their critics. We had created a very positive environment, and we could see the players blossom, become more confident, caring, patient and humble - all qualities of a complete player.
Pakistan was out of the tournament, having lost to South Korea 3-2 in the first semi-final. Thus the Pakistani fans were supporting Japan when they played us. However, we went on to beat Japan 3-1 and enter the final.
Kaushik and I were very tense before the final against South Korea. We watched our earlier pool match with Korea, and planned our strategy till 2 am on the day of the final. Just before the prayers, Kaushik, Malik and I gave motivating speeches.
Suddenly, Sharma, who was always there with the team, began: "The whole country is looking at you. Millions of people's hopes are ...". I stopped Sharma saying that we had lost a match long ago when the manager had stressed out the players with just a speech. I told the boys to treat this as another practice match, and that if they played even 60% of their natural game, we were going to lift the trophy.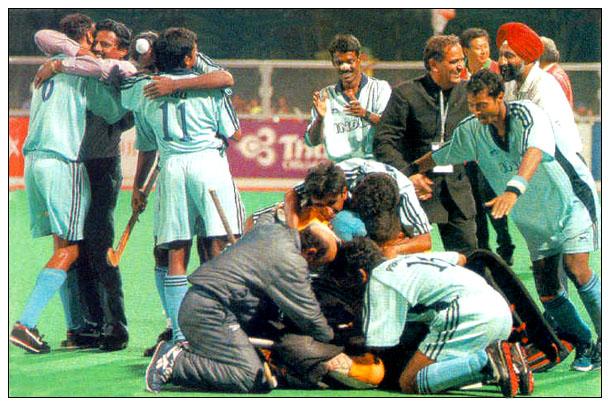 Players celebrate after winning the Asiad gold - Photo courtesy Sportstar