From Gloom to Glory - by Mir Ranjan Negi
Section 1 | Section 2 | Section 3
Page 1
Page 2







Page 3
Page 4


Section 1 - 1982 Asiad

Hounded by the Press

Rumours were afloat about me taking Rs. 1 lakh for each goal that Pakistan scored. My boss, a Sindhi officer, told me to keep a distance for fear of being questioned by CBI.

The newspapers carried cartoons making fun of me, and there was a full-length satire on me.
Page 5
Page 6
Page 7
Page 8

can never forget the morning after the Asiad debacle. I had been branded a traitor, and the newspapers were full of venomous reports, rumours and conspiracy theories. Some tabloids even said that I had taken a bribe from Pakistan.
The most outrageous story appeared in the English weekly BLITZ on December 11, 1982, under the headline 'Bahuguna Routed Indian Team'. The former Uttar Pradesh chief minister Hemavati Nandan Bahuguna's name was dragged into this controversy based on the fact that both he and I are from Garhwal. The report talked about how Bahuguna used me, a fellow Garhwali, to seek revenge against Prime Minister Indira Gandhi.
Many other Indian newspapers reproduced the BLITZ report. Nobody from the press bothered to verify the authenticity of information from the concerned parties, and simply published this malicious piece. It was yellow journalism at its worst, and I felt helpless as this media trial continued.
Reports in the national newspapers were more factual and balanced. I have preserved a report by K. Dutta in the Delhi edition of The Times of India, under the headline 'Pakistan Trounces India in Final'. Excerpts from the report stated:
"There is no better sight in hockey than a Pakistan attack in flight. As it looks out for opportunities, each man becomes a live threat to the goal. That was how it was today. At the other end, India was poorly served by their deep defence. The blame for at least two goals fell on Negi, but it serves no purpose to pick out a single man for criticism. When a team concedes seven goals, the malady must be widespread."
The newspapers continued publishing baseless reports, without proof or verification. Rumours were afloat about me taking Rs. 1 lakh for each goal that Pakistan scored. My immediate boss, a Sindhi officer, told me to keep my distance from him, for fear of being questioned by the CBI.
The newspapers carried cartoons making fun of me, and a renowned Hindi poet, Om Prakash Aditya, wrote a full-length satire on me. There were parodies on the ill-fated match from others.
I remember that after the chilling defeat, Rajiv Gandhi had come to our room and he was dejected. Yet he spoke softly and with sympathy. He said, "I think you guys were not playing hockey today. You were playing as if there is some war going on between the two nations. This is just a game, and you should have taken it that way. I can understand that the Pakistan team was superior to us, but not so superior as to beat you 7-1. Just play your natural game, and I am sure the result will be different next time."
At that time, the words had a magical effect on the team. After the Asian Games, India flew to Australia for the Esanda Cup. Fortunes did change when just ten days later, India beat Pakistan 2-1 in Melbourne. I was, however, not in the team, which only fuelled rumours that I had been thrown out of the Indian team after the Asiad final for reasons other than sporting ones.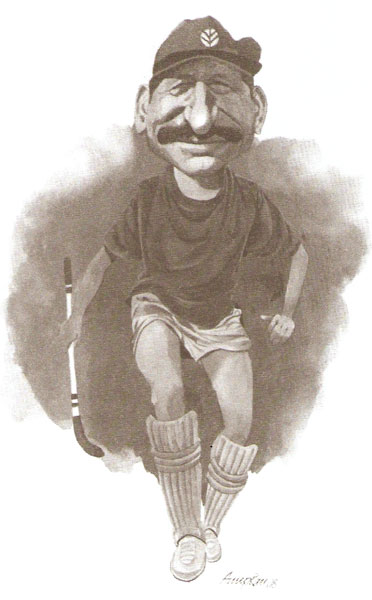 Caricature by Anup Ram, courtesy Kolkata Sports Journalists Association