From Gloom to Glory - by Mir Ranjan Negi
Section 1 | Section 2 | Section 3
Page 1
Page 2







Page 3
Page 4


Section 1 - 1982 Asiad

Shoddy Selection Policies

When the Asiad team was announced, we could not believe our eyes. In-form forward Sodhi was replaced by injured Rajinder Singh, who did not play even a single practice match!

This was one of the most mindless decisions of the team management.
Page 5
Page 6
Page 7
Page 8


he team management held no combined meetings. The players were not aware of any game plan or strategy. What happened thereafter was a series of absurd selection of players, their allotted positioning, and a total absence of a brief of what each player was supposed to do.
It all started with the selection process. Surinder Singh Sodhi was the top scorer in the 1980 Moscow Olympics and captained and played exceptionally well in the 1981 Champions Trophy in Holland. Surinder Singh was a forward, and we were rather shocked to see him play in the defence during the entire 1982 Asiad training camp.
But that was not all. When the 1982 Asiad team was announced, we could not believe our eyes. Sodhi was not selected, and who replaced him? Rajinder Singh Sr., who had developed a knee problem, and who had not participated in the practice matches in the camp for even a single day in the entire fortnight! This was one of the most mindless decisions of the team management.
Why Sodhi was eliminated from the team is still a painful mystery for me. Some of the hockey pundits attributed the ouster of Sodhi to the enmity between I. M. Mahajan, the president of the Indian Hockey Federation, and chief coach Balbir Singh Sr., but that could be mere speculation.
The Indian team declared in the morning of that fateful Asiad final was changed at the last moment. Three new inclusions were made. Rajinder Singh Sr., who had an injured knee, was brought in for Manohar Topno, and Gurmail Singh was played instead of Rajinder Singh Jr.
Rajinder Singh Jr. played all of India's matches till the team reached the semi-finals of the Asian Games, and then Gurmail was brought in. Gurmail was a fantastic right-half, but was made to play left-half.
It is quite clear that the team management runs at the whims and fancies of either the Federation bosses or someone's crazy logic. The management definitely suffered from myopia, and kept finding fault with the players and made them convenient scapegoats for their own failures.
Talking of management, I want to mention the lack of respect for the players with regards to their privileges. Each player was given just two complimentary tickets, and that too for the general stands. It was very disappointing that even my parents and fiancee Vinita, although very much in Delhi, had to content themselves by watching the final on television.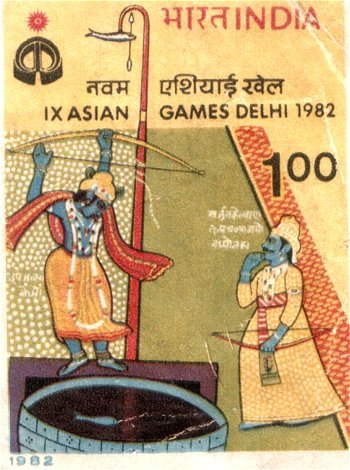 Stamp released by Government of India to commemorate the 1982 Asian Games