From Gloom to Glory - by Mir Ranjan Negi
Section 1 | Section 2 | Section 3
Page 1
Page 2







Page 3
Page 4


Section 1 - 1982 Asiad

Delhi in December 1982

The message from Prime Minister Indira Gandhi was clear - the 7 gold medals already won were not as important as the hockey gold.

In the dressing room, meeting room, dining room, we shut out everything and focussed on a one-point agenda - WINNING.
Page 5
Page 6
Page 7
Page 8


ecember was descending on Delhi. The Asiad brought colour television to the capital. It was for the first time that the Asian Games were beaming live pictures into millions of homes. So the spectators were not only those who were physically present in the stadium; they were now in millions, watching the performances live, in the cozy comforts of their home.
The theme music for the Asiad was composed by Pandit Ravi Shankar, 'Svagatam Shubha Svagatam'. The rich baritone voice of Amitabh Bachchan saying: "We welcome you to these celebrations ..." still rings in my ears.
During the Opening Ceremony of the Games, some members of our hockey team were not in the march past. Our first match was the next day, and our coach did not want us to get tired participating in the ceremony.
We were sitting with other participants in the stands. Next to us sat some players of the Pakistani hockey squad. Sportsmen all, we were talking among ourselves, exchanging pleasantries and good wishes.
The television cameras were everywhere in the stadium, capturing the colour and the grandeur, zooming in on the fans and players, including members of the national hockey team. I did not realise then the implications of my harmless exchange of pleasantries with the Pakistani players, which got beamed across the nation.
Eminent personalities from different walks of life, including political luminaries like Arun Singh and ace Olympian Milkha Singh, frequented the Indian camp often during the Asiad. Rajiv Gandhi, who switched careers from flying planes to politics, also visited the Games Village several times, accompanied by high profile political leaders like Buta Singh.
It had almost become a ritual that high-ranking officials would visiting us to preach how important it was for us to win the gold. The Indian Olympic Association officials were exhoriting us to win as if it was a crusade to vanquish the evil enemy. We were told that as victors, we would be taken around on a victory parade throughout the villages of Punjab.
The message from Prime Minister Indira Gandhi was loud and clear - to her, the seven-odd gold medals already won by India were not as important as the men's hockey gold.
In the dressing room, meeting room, dining room, we shut out everything and focussed on a one-point agenda - WINNING.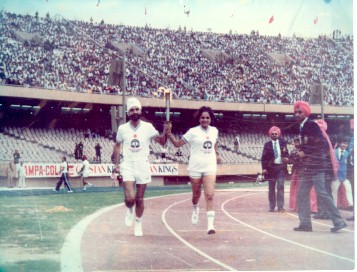 Lighting of the 1982 Asian Games flame, Photo courtesy Balbir Singh Sr.