From Gloom to Glory - by Mir Ranjan Negi
Section 1 | Section 2 | Section 3
Page 1
Page 2







Page 3
Page 4


Section 1 - 1982 Asiad

Pre-Final Jitters

We were introduced to our honourable President before the final. My throat was dry; I was feeling pressure like never before. I was not moving well and my reflexes were sluggish.

My legs felt weighed down with lead. I was frothing strangely at the mouth.
Page 5
Page 6
Page 7
Page 8


he 1982 Asian Games were nearing their climax. India was to face arch rival Pakistan in the men's hockey final. The National Stadium was reverberating with the sound of 27,000 hysterical spectators, buoyed by the presence of celebrities like President Giani Zail Singh, Prime Minister Indira Gandhi, her son Rajiv Gandhi, almost all the Cabinet Ministers, Amitabh Bachchan and other dignitaries.
Mohammad Shaheed, the mercurial forward of the Indian team, was my roommate. We were acutely aware of the media frenzy before the match, and hardly slept for two consecutive nights prior to the final.
Since the final was against Pakistan, it was not just a game anymore, it involved national pride, and to lose was unthinkable. The whole nation was waiting with bated breath for us to vanquish the enemy. As we looked around, we were overwhelmed by the galaxy of VVIPs and the waves of spectators filling up the stands.
Tension was steadily building up in the dressing room. The match had become surreal. And we just did not know how to come to grips with the pressure and the hype.
We could hear the roar of the excited spectators, waiting for the action to start. The Indian men's team coaches, Balbir Singh Sr. and Col. Balbir Singh, seemed more nervous than us, and passed on their nevousness to us without realizing the disastrous consequences. The coaches made our anxiety worse by their hyperbole - exhorting us to die for our nation, and that the whole country will be watching us on television.
We were introduced to our honourable President before the start of the final. I distinctly remember the impact it had on me; my throat was dry, I was feeling the pressure like never before. I was not moving well and my reflexes were sluggish. My legs felt weighed down with lead. I was frothing strangely at the mouth.
I told Gurmail that I was not feeling 100% fit for the match, and requested him to convince the coach to field Romeo James as the goalkeeper for the final. Gurmail went to assistant coach Col. Balbir Singh, who in turn discussed the matter with Balbir Singh Sr., but my request was turned down. I guess it was fated.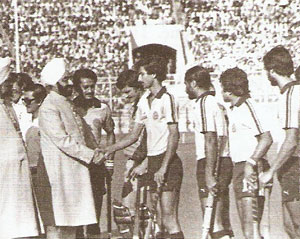 President Giani Zail Singh being introduced to the teams, Photo courtesy Ashok Vahie