From Gloom to Glory - by Mir Ranjan Negi
Section 1 | Section 2 | Section 3
Page 1
Page 2







Page 3
Page 5


Section 3 - Chak de India

Abhi Foundation

I had the privilege of meeting Rahul Gandhi, to whom I explained the vision behind the Abhi Foundation. He has shown interest, and I am to meet him with a formal proposal. Like Rahul Gandhi, I am sure there are many well-wishers of the game in India, and I will provide them a platform to contribute their mite.
Page 5
Page 6
Page 7
Page 8


eople keep telling me that Indian hockey is finished and that there is no future for this game of which we were once the kings. Having played for the country, it hurts me that India did not qualify for the 2008 Beijing Olympics hockey competition.
From my perspective, there are two ways of reacting to this situation - take the easy way out and accept it as inevitable, or work harder and set things right. I have opted for the latter, and hence the Abhi Foundation, a project closest to my heart, is being launched to promote hockey at the grassroots level.
I have met and overcome many challenges in my life, and now I am determined more than ever to restore the glory and beauty of Indian hockey. I hope to make a more significant contribution to Indian hockey, which has currently fallen on bad days.
The hockey leadership in our country is in a state of limbo following the fall of the Indian Hockey Federation. The new leaders must learn from the mistakes of the past. I am hopeful that like-minded people, especially those in the influential corporate world, will join me in this endeavour.
If Chak de moved people to tears, then so should the state of hockey affairs in our great country. My optimism stems from the belief and conviction that there is a huge talent base in India, and it would be a crime to allow this game to wither away by our lack of sensitivity and responsibility towards our national sport.
Through the Abhi Foundation, I hope to take hockey to rural India through Academies that will provide facilities to children to take to hockey. It is a huge exercise, no doubt, but I am prepared to go to any extent to make a success of this Foundation.
I had the privilege of meeting Rahul Gandhi, to whom I explained the vision behind the Abhi Foundation. He has shown interest, and I am to meet him with a formal proposal. Like Rahul Gandhi, I am sure that there are many well-wishers of the game in India, and I am willing to provide a them platform to contribute their mite to revive our hockey fortunes.
In many ways, my life's journey has been one of dramatic ups and downs. Hockey threw me into ignominy, and then suddenly made me famous. Today all this hype is meaningless to me unless I harness it for the greater glory of hockey.
Through this all, my love and passion for hockey has not diminished. I still nourish a dream - a dream where India will again ascend the word throne that she once occupied.
Hopefully, it will be in my lifetime.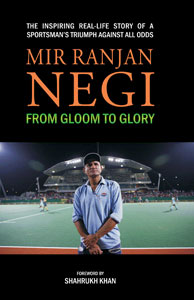 Front Cover of Book - From Gloom to Glory