From Gloom to Glory - by Mir Ranjan Negi
Section 1 | Section 2 | Section 3
Page 1
Page 2







Page 3
Page 4


Section 3 - Chak de India

The Adventure Begins

The hockey field is like a miniature India, and we sportmen are a different tribe. We do not recognise colour or caste or religion, we only recognise the ideal of sportsmanship.

Our religion is Hockey. Our creed is the more we sweat in practice the less we bleed in battle
Page 5
Page 6
Page 7
Page 8


he adventure began the next morning. We met at St. Andrews ground in Bandra at seven in the morning. I was introduced to all the girls. Each player had a distinct personality. I greeted them and proceeded to run a few things by them.
"We call hockey a mad man's game in India; one has to work harder and harder in the service to the game. And what do you receive as trophies? A few stitches here and there, some bruises, a couple of broken teeth. You will be donning India colours in the movie, and so the responsibility is huge. What players learn in a lifetime, you have to portray realistically in three months."
The hockey field is like a miniature India, and we sportmen are a different tribe. We do not recognise colour or caste or religion, we only recognise the ideal of sportsmanship. Our religion is Hockey. Our creed is that the more you sweat in practice, the less you bleed in battle. I lay down three simple rules - hard work, hard work and more hard work. In my coaching, there would be very little talking and a lot of action.
Most of the girls had not held a hockey stick in their lives. I knew that this was a unique coaching assignment, that this was a unique team, and that I had to tackle each girl differently.
Vidya Malvade was the senior most member of the team. She had been working as an airhostess with KLM and Lufthansa Airlines from 1986 to 2003, before she did her first film, Inteha. Shilpa Shukla had done one film, Khamosh Pani, and Shimit had told me that she was a good artiste. I remembered Sagarika Ghatge from the audition at Khalsa College ground. After I had made her run a couple of rounds, I had taken Shimit aside and congratulated him, saying that we had found his Preeti Sabarwal.
Tanya Abrol, a judoka, was cast as a full back because of her imposing size. Anaitha Nair came on board when we needed to replace a player. Arya Menon joined us later. Chitrashi Rawat was a student of the Hockey Training Centre in Dehradun - extremely affectionate, talkative and a real tomboy.
Mosochon Zimik (Chon Chon) was headstrong. Shubhi Mehta was easygoing and Seema Azmi was a student of the National School of Drama, Delhi. Sandia Furtado, Kimberley Miranda, Kimi Laldawla, Raynia Fernandes, Nisha Nair and Nichola Sequiera were college-level hockey players.
The actual training began on the grounds of Don Bosco School, Matunga, in central Mumbai. Like all hockey teams of the country, we placed our hockey sticks in front of the goalpost, performed a small aarti, and began our adventure. The first few days of training were the toughest as the girls were not able to move the ball, except for the few who had played some hockey in their school or college. Most of them were either missing the ball completely, or were just not able to make proper contact. The girls were all stiff and clumsy, and I wondered if I could ever teach them to move fluidly.
Each week, after the training session, we would invite at least one hockey player of repute to share his or her experiences with the entire unit of Chak de India. We would sit in the changing room and listen to the guests for an hour or so. Surajlata Devi, the captain of the Indian women's hockey team, was our first guest. Besides Surajlata, we had Dhanraj Pillay, Tingolima Chanu, Sameer Dad, R. Pathania, the junior India coach, Dr. Jatin Walia and Commander Kehar Singh to help the girls understand the spirit of the game. We also invited Dinesh Vohra, author of several books, to motivate the girls.
We had a final script reading session at Yash Raj Films Studio on 7th July, 2006. All the girls were eager to know which roles they had been assigned. When the session finished and the roles assigned, the girls had different expressions on their faces. Some were delighted, others looked devastated.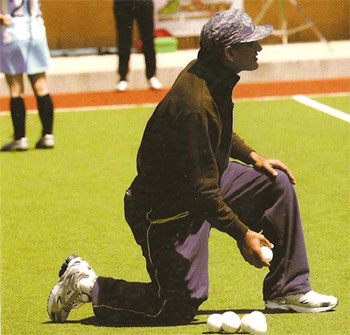 Negi training the Chak de girls, Photo courtesy Yash Raj Films