From Gloom to Glory - by Mir Ranjan Negi
Section 1 | Section 2 | Section 3
Page 1
Page 2







Page 3
Page 5


Section 3 - Chak de India

Jhalak Dikhlaja

That day she switched off the AC and rehearsed for 7 hours without a break. I was perspiring so much I had to change 4 T-shirts.

The popular song 'Khai ke paan Banaras vala' was choregraphed like a puppet dance, and I was the first dancer to score 30 out of 30.
Page 5
Page 6
Page 7
Page 8

resumed my duties at the Customs Department of Sahar International Airport. One day, I received a call from Sony Television. The producer wanted me to come for a show called Jhalak Dikhlaja. When they told me I needed to dance on this show, the phone almost fell out of my hands. I thought it was a prank being played by some friends. However, they were serious about it. I was shown the original format on which Jhalak was based - a BBC show called 'Dancing with the Stars', where celebrities from different walks of life were made to dance.
As I was discussing this project with my family, I got a call from one of the girls from my Chak de team. When she came to know of the offer, she said, "Come on coach, you cannot dance." In the past, such negative thoughts always triggered my anger. I felt challenged and decided then and there to accept the offer. Permission to participate was granted by my commissioner, R. K. Mahajan.
The judges were the evergreen actor Jetendra, dancing guru Shiamak Davar and dancing diva Urmila Matondkar. There were six men and six women celebrities. Among the male celebrities were music director and my close friend Aadesh Shrivastav, the 'Amitabh Bachchan of Indian television' - Ronit Roy, ace comedy host Cyrus Broacha, singer Mika and young television actor Jai Bhanushali. The women contestants included famous Indian actresses Sonali Kulkarni and Sandhya Mridul, television host Mini Mathur, dance exponent Sudha Chandran, super model Tapur Chatterji and upcoming actress Prachi Desai. I was the only person who was not from the world of glamour.
Marischa Fernandes, a sweet young girl who was Shiamak Davar's student, was my choreographer and dancing partner. I had to learn everything from scratch. Unlike in movie shooting, there were no retakes, no second chances to correct myself. I went on the stage for the first time and danced the Salsa. I was perspiring profusely. But I was elated when I got a standing ovation after my performance.
We had one week to prepare for each song. One day I had a fight with Marischa. I told her that she was not pushing me, and so I was getting less marks. She got angry and said that I doubting her commitment. I told her that if I were Marischa and she Negi, I would have pushed her to improve. She took it seriously. That day she switched off the air conditioning and continued the rehearsal for seven hours without a break. I was perspiring so profusely that I had to change four T-shirts. The popular song 'Khai ke paan Banaras vala' was choregraphed like a puppet dance, and I was the first dancer in Jhalak Dikhlaja Part II to score 30 out of 30.
Sensing a good opportunity to promote the game, I invited hockey players Gagan Ajit Singh, Jugraj Singh and Naresh Dakalia to the sets for the gala Divali episode. I danced to the Govinda number 'Mai to raste se jaa rahaa thaa', and scored a perfect 30 once again.
The producer of the show, Siddharth Basu, told me that I was getting the maximum number of votes. I lasted till the semi-finals, and in my last performance, the judges gave me 28 out of 30, though I lost narrowly on the overall score.
We had already made the announcement that whatever money we won from the show would go to the Abhi Foundation that we were launching in the memory of my elder son for the promotion of hockey in the country. Vinita spoke about the Foundation, and there wasn't a dry eye in the studio.
During the shows of Jhalak Dikhlaja, I met actresses like Sharmila Tagore, Katrina Kaif and Diya Mirza. I danced with Bipasha Basu and Urmila Matondkar. It was like a crazy dream. During one rehearsal, veteran actress Shobha Khote and her daughter came especially to see me in person. I was touched. An Army friend posted in South Africa emailed me about this poor old lady who used to walk a long distance just to see me dance. My fan following included many children, including Kumaramangalam Birla's son, Aryaman.
My father, the architect of my life, is a self-proclaimed atheist. But something surprised me recently. After Chak de India was released and Jhalak Dikhlaja got over on television, my father, who never went to any temple in his life, called me aside and said, "Beta, I am at the fag end of my life. All I can tell you is that there is indeed someone called God."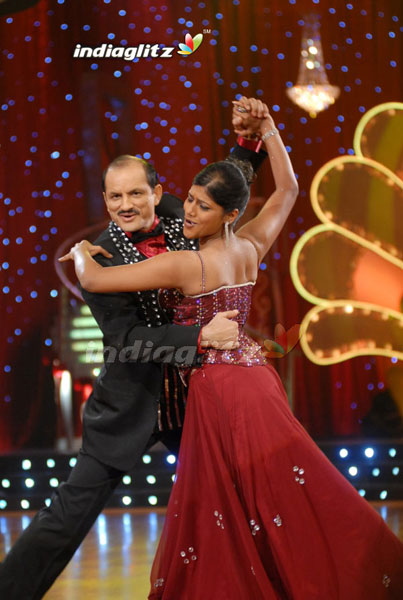 Negi and Marischa on Jhalak Dikhlaja, Photo courtesy IndiaGlitz.com