Coach's Corner - Shiv Jagday (2010)
For more coaching information, visit www.coachshiv.com

INTRODUCTION
The role of clear and effective communication in hockey coaching is as follows:
It helps translate the coach's game plan and style of hockey to the players
It enables the team to play in its peak performance zone during competition
It helps both the individual athletes and the team as a whole to reach their full potential
There are two requirements for coach-player communication to be effective:
A healthy coach-athlete relationship, that is based on respect, loyalty, trust and mutual understanding
Active participation of both parties in the communication, which is essentially a two-way process
Clear and effective communication does takes time to develop. However, once this is achieved, the outcome is a positive environment, where teams flourish and grow, while also having fun.
TYPES OF COMMUNICATIONS
There are fundamentally two types of communication:
Verbal Communication: where we use words to communicate and express our views.
Non-verbal Communication: where we communicate via our body language, either consciously or unconsciously
According to Jan Hargave and Associates: "Our words make up only 7% of what we communicate to others. The remaining 93% is non-verbal information. Our bodies do not lie."
EYE CONTACT
Eye contact is an important part of non-verbal communication. To maintain eye contact with my student athletes, I request them to do three things, in the following order:
Can I have your attention please?
Can you come closer?
Now I like you to look at me, making eye contact
Eye contact shows that the student athlete is paying attention to me, listening to me, and trying to understand what I am conveying. Eye contact also gives me instant feedback - I can judge whether I am being successful in conveying my message. Since the face is the index of the mind, I can also make out if the listening athlete is interested or not.
It is good practice to organise the players in a semi-circle in front of the coach, so that each individual player can have eye contact with the coach at any given time. Also, make sure that the players are not facing the sun, as this will distract them.
EXAMPLES OF EFFECTIVE COMMUNICATION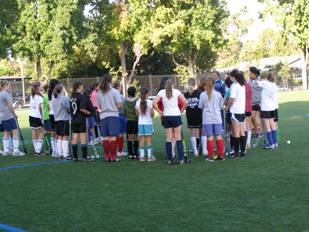 In the above photograph, please note the body language of these u-14 student athletes, who are organised in a semi-circle. It is a fair statement to say that most of them are listening attentively to their coach.
Another example of effective communication is from the 1985 Junior Men's World Cup that was held in Vancouver, Canada. It was admirable to see how organised and disciplined the Pakistan juniors were. During half-time of their matches, the players lined up in order of their playing positions, starting from the Goalkeeper, Right Back, Left Back, leading up all the way to the Left Out. This way, Pakistani coach Asad Malik knew the role of each and every player, and would give appropriate half-time feedback and coaching tips. The Pakistan junior team finished with the bronze medal in the tournament.
AN EXAMPLE OF INEFFECTIVE COMMUNICATION
When the student athletes are not paying attention, there is a breakdown in communication, Please see the photograph below to illustrate this point: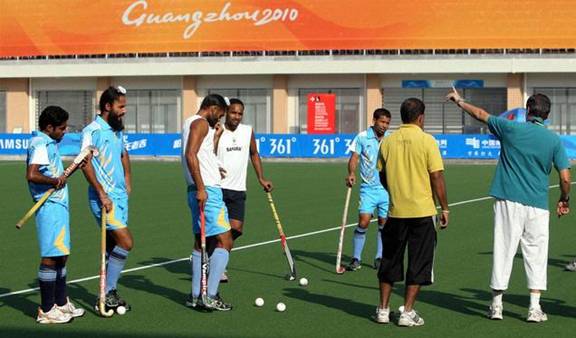 Photograph courtesy Press Trust of India
Coach Jose Brasa is giving instructions to the Indian team at a practice session during the Asian Games in Guangzhou, China. If a picture is worth a thousand words, the photograph reveals the following about the players' atttention levels:
Extreme Left: This player is in his own world, and not listening or showing respect
Second from Left: Captain Rajpal's body language and posture is positive and powerful
Third from Left: Sarvanjeet is in his own world of dreams.
Fourth from Left: Is defender Dhananjay Mahadik more interested in facing the camera, or listening to his coach?
Fifth from Left: Bharat Chikara is the most attentive student athlete, listening to and making eye contact with coach