Dhyan Chand - The Legend Lives On
Biography of Hockey Wizard Dhyan Chand
By Niket Bhushan, Wiley Eastern Ltd., 1992
Page 1
Page 2
Page 3










Page 4
Page 5
Page 6

Off to Los Angeles

During the journey by ship, many players fell ill due to the rough weather. When the ship reached Hong Kong, the local Indian community lavishly entertained the team.

The team sailed on to Tokyo, Honolulu and finally reached San Pedro. The long journey to Los Angeles was complete.

A newspaper described the team as bronzed and turbaned as they stood on the gangway.

Page 7
Page 8
Page 9
Page 10
Page 11
Page 12

n May 30, 1932, the 16-member Indian Olympic team set sail for Singapore on the N. Y. K. Haruna Maru. The captain garlanded the Indian team and took a group picture for the ship's records.
The team arrived in Singapore a week later. During the onward journey to Hong Kong, many players fell ill due to the rough weather. When the ship reached Hong Kong, the local Indian community lavishly entertained the Indian team.
The team sailed on to Tokyo, Honolulu and finally reached San Pedro. The long journey to Los Angeles was complete, and they arrived some three weeks before the start of the Olympic Games.
The local newspaper described the Indian team as bronzed and turbaned as they stood on the gangway. In the 1932 Games, the construction of an Olympic village was the first in the Games' history. Other innovations included electro-photo timing of the races, and a victory podium with national anthems and flags.
On July 30, the Games started with a colourful Opening Ceremony at the Los Angeles Colesium.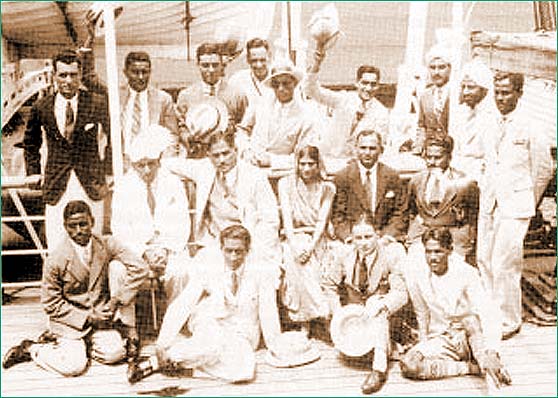 Indian Team En Route to Los Angeles in 1932 (Photo Courtesy Dickie Carr)