Dhyan Chand - The Legend Lives On
Biography of Hockey Wizard Dhyan Chand
By Niket Bhushan, Wiley Eastern Ltd., 1992
Page 1
Page 2
Page 3










Page 4
Page 5
Page 6

Dhyan Chand's Principles

Dhyan Chand was a stickler for punctuality. If he gave anyone an appointment, he would be ready half an hour earlier.

Once he had to go to a function with his son Ashok at 4 pm. Ashok and his friend had gone to see a film, and came back around 3 pm.

They made up a story that their cycle had a puncture. He scolded them for lying, telling them that he knew they had gone for a movie.

Page 7
Page 8
Page 9
Page 10
Page 11
Page 12

hyan Chand was at heart a simple and humble man. The opening words of his autobiography reveal this nature, "You are doubtless aware that I am a common man and a soldier. It has been my training from my very childhood to avoid limelight and publicity."
Many of his friend and colleagues marvelled at his extraordinary simplicity. Once after playing a tiring match in Madras, Dhyan Chand signed over 400 autographs.
After his retirement, when people asked him about his achievements, Dhyan Chand would simply say, "I didn't do anything. Don't talk about that time. It is past."
He was unassuming in appearance and used to dress simply in a dhoti and kurta.
Dhyan Chand was an independent man, robust in views, determined and strong-willed. Dhyan Chand firmly believed that one had to be a good man to be a good player. Dhyan Chand's attitude was always how to help the other person.
Dhyan Chand was a stickler for punctuality. If he gave anyone an appointment, he would be ready half an hour earlier. If someone had to pick him up, or take him to a match, or to some function, he would be ready well before the given time. He always respected the other person's time. He did not like keeping anyone waiting for him.
Once he had to go to a function with his son Ashok at 4 pm. Ashok and his friend had gone to see a film, and came back around 3 pm. Dhyan Chand was already ready by that time and demanded to know why they had got delayed. They made up a story that their cycle had a puncture. Dhyan Chand scolded them for lying, and told them that he knew they had gone for a movie.
On one occasion, Dhyan Chand had to pay some duty on a transistor radio. He felt that this was not right. So angry was Dhyan Chand that he broke the transistor set on the spot to show his resentment against petty high handedness.
Dhyan Chand's talk to his teammates used to have the flavour of his Army background. He would say, "Humko dushman ki territory par kabja karna hai (we have to capture the enemy's territory). What he meant by this was that they have to make inroads into the opposing team's defence.
Dhyan Chand never blamed anyone, nor did he praise anyone needlessly. He rarely got angry, whatever the provocation. Dhyan Chand did not like favours or obligations, and if someone invited him for tea, he would make sure to invite the person the next time.
Even when he had financial problems, he did not go to anyone pleading for assistance. Dhyan Chand never complained about the shabby treatment that the Indian Hockey Federation meted out to him.
It was his overriding simplicity that made him say that he found it hard to believe that he had represented India in 3 Olympic Games. He always talked about the other good players. He was never jealous of any player; unlike the petty squabbles we see among star players of Indian sports today.
For Dhyan Chand, the most important thing was representing India and winning honours for his country.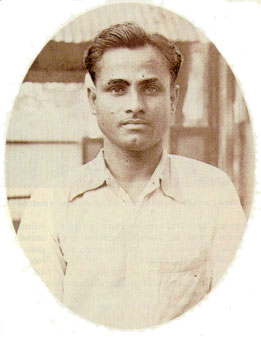 Dhyan Chand - a simple and humble person