Dhyan Chand - The Legend Lives On
Biography of Hockey Wizard Dhyan Chand
By Niket Bhushan, Wiley Eastern Ltd., 1992
Page 1
Page 2
Page 3










Page 4
Page 5
Page 6

Dhyan Chand Family Tree

Dhyan Chand's father, Subedar Sameshwar Dutt Singh, had 3 sons - Hawaldar Mool Singh, Major Dhyan Chand and Roop Singh.

Dhyan Chand was married to Janaki Devi just before the 1936 Olympics. They had seven sons. They were based in Jhansi.

Dhyan Chand's younger brother Roop Singh's family was based in Gwalior.

Page 7
Page 8
Page 9
Page 10
Page 11
Page 12

he Dhyan Chand family tree has 5 Olympic gold medals, 1 Olympic bronze, 1 World Cup gold, 1 World Cup silver and 1 World Cup bronze medal.
Dhyan Chand's father, Subedar Sameshwar Dutt Singh, played hockey in the army. He had 3 sons - Hawaldar Mool Singh, Major Dhyan Chand and Roop Singh.
Dhyan Chand won the gold medal in the 1928, 1932 and the 1936 Olympic Games. Dhyan Chand was married to Janaki Devi just before the 1936 Olympics. They had seven sons. They were based in Jhansi.
The eldest son Brij Mohan represented his state in the nationals. The second, Sohan Singh, became a coach. The third, Raj Kumar, was an athlete.
The fourth, and most famous, Ashok Kumar, scored the goal that won India the 1975 World Cup. That remains India's only World Cup title. Ashok Kumar also won a bronze medal in the 1972 Munich Olympics, and a bronze and silver in the 1971 and 1973 World Cup tournaments respectively.
The next son, Umesh Kumar, played for Indian Airlines, and toured Argentina with the airlines team. Another son, Devinder Singh, played for Indian Airlines and also for Bengal.
Dhyan Chand's younger brother Roop Singh won the gold medal in the 1932 and the 1936 Olympic Games. Roop Singh's family was based in Gwalior. His son, Chandrashekhar played hockey for India.
Dhyan Chand had another son, Virender Singh, who was very helpful and cooperative to the author in gathering material for this biography. Roop Singh had another son, Bhagat Singh Baiss, who gave the author old newspaper clippings and photographs of his father.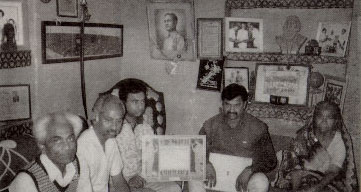 Dhyan Chand's medals and mementos in his family house in Jhansi