Dhyan Chand - The Legend Lives On
Biography of Hockey Wizard Dhyan Chand
By Niket Bhushan, Wiley Eastern Ltd., 1992
Page 1
Page 2
Page 3










Page 4
Page 5
Page 6

What is Hockey?

Just like in 1928, the problem of expenses came up again. The IHF thought that a public appeal in the name of Mahatma Gandhi would help them raise funds for the trip.

The IHF sent its representative, Mr. Charles Newman, to meet Gandhiji, who was then in Simla for the Gandhi-Irwin talks. After Newman told him the reason for his visit, Gandhiji simply asked, "What is hockey?"

Page 7
Page 8
Page 9
Page 10
Page 11
Page 12

he Inter-Provincial Tournament, as the national hockey championship was called in those days, was held just before the 1932 Los Angeles Olympics.
The Indian Hockey Federation (IHF) wrote to the Army Sports Control Board for Dhyan Chand's leave for the nationals. Dhyan Chand was on duty at a place called Waziristan in the remote North West Frontier Province (now in Pakistan). His platoon did not give him leave for the nationals.
Later, Dhyan Chand read about his inclusion in the Indian team in the newspapers. This unexpected development pleased Dhyan Chand. Apart from Dhyan Chand, Broome Eric Pinnegar, Leslie Hammond and Richard Allen were the other 1928 Olympians retained in the team. Roop Singh was also included in the squad, and he was to play as a left-in.
Just like in 1928, the problem of expenses came up again. The IHF had to grapple with the task of raising funds to go as far as Los Angeles. The IHF thought that a public appeal in the name of Mahatma Gandhi would help them raise funds for the trip.
The IHF sent its representative, Mr. Charles Newman, to meet Gandhiji, who was then in Simla for the Gandhi-Irwin talks. After Newman told him the reason for his visit, Gandhiji simply asked, "What is hockey?"
The 1932 Olympic team played a couple of practice matches in India before heading for Colombo. In two matches in Ceylon (Sri Lanka), the Olympic team beat All Ceylon XI 20-0 and 10-0.
Wrote one newspaper on the first match, "Perfection is perilous, for it tempts the gods. For once, this was proved wrong for even the god of weather paid tribute to the genius of the Indian players. Rain clouds, which had threatened to ruin the game, vanished into the blue, and thousands of spectators spent a happy hour marvelling at the incomparable artistry of the Indian team."
The second match was witnessed by the Governor of Ceylon, Sir Graeme Thompson, who remarked, "Is the match really over? I feel that I have been watching the Indians play for only five minutes."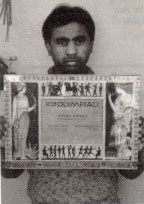 Dhyan Chand's son Virender Singh with the 1932 Olympics gold medal certificate