Dhyan Chand - The Legend Lives On
Biography of Hockey Wizard Dhyan Chand
By Niket Bhushan, Wiley Eastern Ltd., 1992
Page 1
Page 2
Page 3










Page 4
Page 5
Page 6

Off to Amsterdam

Impressed by Dhyan Chand's skill, the British press called him a 'hockey wizard' and a 'human eel'.

Legend has it that the Queen told Dhyan Chand to play with her umbrella using the handle as a stick, and he still scored goals.

The Nawab of Pataudi Sr., who was a student in England then, played with Dhyan Chand at Folkestone.

Page 7
Page 8
Page 9
Page 10
Page 11
Page 12

etting sail for Amsterdam on March 10, 1928, on the ship Kaiser-i-Hind, Dhyan Chand never forgot the send-off. Just three persons, the IHF president, the IHF vice-president, and a journalist wished them bon voyage. Dhyan Chand later recalled that just these 3 persons, out of around 400 million Indians, considered it important to see off the players.
Some of the players who had never experienced a sea voyage before fell sick. Since Dhyan Chand had travelled by ship earlier, he managed to keep himself healthy.
Kaiser-i-Hind dropped anchor at Tilbury Docks in London 20 days after setting sail. Dhyan Chand was attracted by the hustle and bustle of London, and liked the West End and the underground railway system.
As the team had undergone nearly 3 weeks of voyage, it lacked field practice. The Indians played 11 practice matches in England, winning 9, losing 1 and drawing 1.
Impressed by Dhyan Chand's skill, the British press called him a 'hockey wizard' and a 'human eel'. Legend has it that the Queen told Dhyan Chand to play with her umbrella using the handle as a stick, and he still scored goals.
The Nawab of Pataudi Sr., who was a student in England then, and would later go on to play cricket for India, played with Dhyan Chand at Folkestone.
In one of the practice matches in England, the team was shouting for maalis or gardeners to take their kit onto the field. Then they saw the opposing team members carry their own kits. It then dawned on them that abroad, every player, big or small, carried his own kit. It was a lesson they would not forget.
The Indian team accepted an invitation from the German Hockey Federation to play 2 matches in Germany. From there, the team went to Brussels where they played 1 match. Finally, they played 4 practice matches in Holland.
Three days before the Games were to begin, the team arrived and relaxed in their hotel. Dhyan Chand concentrated on the task at hand, and kept himself aloof from all distractions.
The 9 countries participating in the 1928 Olympic hockey tournament were India, Holland, Germany, Belgium, Austria, Denmark, France, Switzerland and Spain. Divided into two pools, the pool winners were to meet for the gold medal.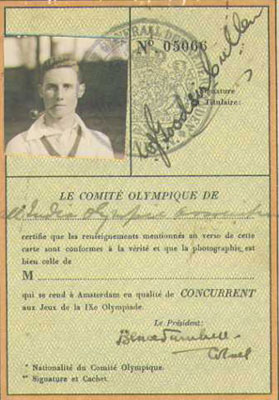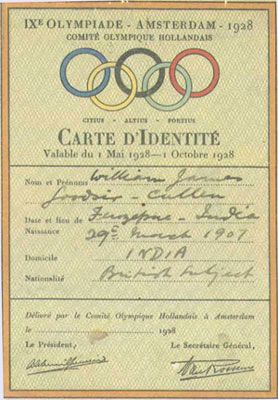 1928 Olympic Games photo identity card - courtesy Dayan Goodsir-Cullen