To Hell With Hockey
The Autobiography of Aslam Sher Khan
By Matin Khan, Allied Publishers, 1982
Page 1
Page 2
Page 3










Page 4
Page 5
Page 6

1971 World Cup

Cricketer Abdul Hafeez Kardar said that Lahore stadium would be burned down if India was allowed to participate in the World Cup.

Kardar was unaware that the Allah in whose name he was preventing India from participating, was the same Allah to whom a little Indian Muslim boy Aslam had been praying all along for an opportunity to represent his country.

Page 7
Page 8
Page 9
Page 10
Page 11
Page 12

y first tour abroad was supposed to be for the inaugural World Cup tournament in Lahore. The unsporting attitude of Pakistani cricketer Abdul Hafeez Kardar came in the way of that tour. Cricketer Kardar went on record that Lahore stadium would be burned down if India was allowed to participate in the World Cup.
Kardar was apparently unaware that the Allah in whose name he was exhorting Pakistanis to prevent India from participating, was the same Allah to whom a little Indian Muslim boy Aslam had been praying all along for an opportunity to represent his country.
My first tour abroad was thus cut short by an injection of politics in sports.
The venue of the World Cup was shifted from Lahore to Barcelona. The Selection Committee comprising Jos Gonsalves, Raghubir Singh Bhola, Balbir Singh Sr. and P. N. Sahni were split between me and Baldev Singh. Roop Singh had the deciding vote, which he cast in favour of Baldev Singh. I was left out of the squad.
The manager of the team was Vijay Gupta, the loquacious, articulate secretary of the Bhopal Hockey Association. Inspite of being an advocate by profession, Vijay Gupta let my case go unattended. Another Bhopal boy though, Shaheed Noor, was selected for the Indian team.
During the Barcelona World Cup, I was in the Indian Airlines coaching camp at Lucknow. Coach Babu gave a holiday to the boys on the day of the India-Pakistan semi-final. Babu, accompanied by Inam and me, used the occasion to go on a shoot.
Babu's feudal pastime of sand grouse and partridge hunting had remained despite the changed times. Rifle slung on his left shoulder, a transistor in his right hand, Babu kept looking for partridges in the jungles near Lucknow, all the while listening to the live commentary.
Newcome Tejvinder Singh had put India ahead. Only a few minutes were left for the end of the match when Pakistan's Tanvir Dar scooped the ball, catching the Indian full-back Vinod Kumar off-guard. Rasheed Jr., who was following the scoop, took possession of the ball and scored the equaliser. The game went into extra-time.
A penalty corner was awarded to Pakistan, and was converted by a teenager Munawwar Zaman. Pakistan won the match, and went on to win the final against Spain to clinch the inaugural World Cup.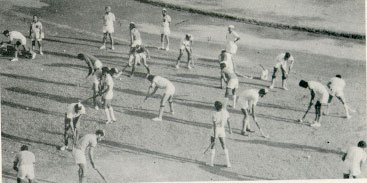 The Jalandhar Coaching Camp, under K. D. Singh Babu's Watchful Eye