To Hell With Hockey
The Autobiography of Aslam Sher Khan
By Matin Khan, Allied Publishers, 1982
Page 1
Page 2
Page 3










Page 4
Page 5
Page 6

Job With

Indian Airlines

There was jubilation in Bhopal the day I left it for Delhi to join Indian Airlines. It was Id. That evening, as the birds were returning home at dusk, I left mine.

Mother did not weep. She only said Khuda Hafiz, leaving her only son to the care of God. I took a rickety tonga to the station, and kept looking at the tall stocky figure of my mother peering from behind the gunny sack curtain on our door.

Page 7
Page 8
Page 9
Page 10
Page 11
Page 12
was representing Saifia College in the Jawaharlal Nehru tournament in Delhi. We were staying at the National Stadium, and Ghufran was the manager of the team.
On my return from prayers that Friday, K. P. Roy of Indian Airlines was waiting for me. Keshav had captained the Indian wrestling contingent at the London Olympics. He was now a Sports Officer with Indian Airlines. I was regarded as a potential national player, and Indian Airlines wanted to recruit me.
I was thrilled that I would get a chance to play with players like Inam, Ashok, Govinda, Krishnamurthy and others, and fly in an aircraft.
The newspapers next morning included my name in the Indian hockey team to tour Pakistan. I kept staring at my name in disbelief and delight. K. P. Roy's emissaries were back. Indian Airlines wanted Aslam Sher Khan.
There was jubilation in Bhopal the day I left it for Delhi to join Indian Airlines. It was Id. I always went for prayers at the Jama Masjid in the heart of the city. The shopkeepers of the area, mostly Hindu cloth merchants, layer the road leading to the mosque with cloth so that those Muslim brethren who could not find place in the mosque could pray on it.
That evening, as the birds were returning home at dusk, I left mine. Mother did not weep. She only said Khuda Hafiz, leaving her only son to the care of God. I took a rickety tonga to the station, and kept looking at the tall stocky figure of my mother peering from behind the gunny sack curtain on our door.
The Grand Trunk Express arrived - late as usual. As soon as it screeched to a halt, I bulldozed my way to a third-class sleeper compartment. Peering out of the window, my nose pressed against the pane, I saw little except my own snub-nosed reflection. I wished the train moved faster, but the train ran its own lazy, mechanical course as I fell asleep.
Dawn and Delhi came together. I took a rickshaw from Nizamuddin station to Airlines House, behind the Akashvani office on Parliament Street. KP, as everybody called K. P. Roy, took me to Prasad, the Joint Secretary of the Indian Airlines Sports Control Board.
Prasad gave me the letter of appointment, and asked KP to send me the same night to Lucknow, where the team was being coached by India's former captain Kunwar Digvijay Singh 'Babu', who in his prime was considered the best dribbler in the world.
From now on, my travel would be on aeroplanes instead of on trains. The Indian Airlines players travelled by air, stayed in the best hotels, and played in major hockey tournaments all over the country.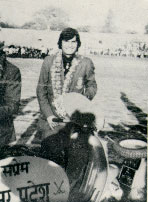 My first vehicle ... courtesy my hockey career