To Hell With Hockey
The Autobiography of Aslam Sher Khan
By Matin Khan, Allied Publishers, 1982
Page 1
Page 2
Page 3










Page 4
Page 5
Page 6

My Mother

Monsoon always brought tears to Amma's eyes. The rain dripped through the tiles drop by drop, like Chinese torture.

We had no cooking gas, and smoke would billow from the earthern chulha from the wet firewood, smarting her eyes.

It was the same at night when we kept moving our beds to avoid the rain drops. I hate the rains till now.

Page 7
Page 8
Page 9
Page 10
Page 11
Page 12

fter my father's death in 1966, Amma took over his role to provide food and shelter for the family. We were a lower middle-income family, and lived in a kuchcha mud and brick house. Amma had never seen the face of a school except in passing, but father's death was a tutor to her.
We had a patch of ancestral land in the village, on which wheat and pulses grew. During the sowing and harvesting seasons, Amma would take all of us to the village to supervise the operations. The villagers worked for us on a 50% produce sharing basis called batai.
Our food was simple - chapatis, pulses and sometimes vegetables. Wheat could be purchased at Rs. 20 a maund, and milk was sold a Rupee a seer. An old woman brought us milk in a pail every morning, and our payment, though on a monthly basis, was always in arrears. During the monsoons, it was fish for breakfast, fish for lunch and fish for dinner.
Amma's days were spent in cooking and cleaning and sewing. The neighbourhood, which knew Ahmed Sher Khan as an Olympian, soon learnt that his wife Ahmedi was a good tailor, and kept sending her clothes for stitching. At night, when my sisters and I went to sleep, Amma would start sewing to earn a living for us.
We had no electricity at home those days, and Amma had to stitch clothes in the weak sickly light of the lantern. I would pretend that I was asleep, but would watch her stitching impassively, her face totally expressionless.
In summer, water from the municipal tap came in small rationed doses, allowing my family either the luxury of a bath, or the necessity of storing it for domestic use.
Monsoon always brought tears to Amma's eyes. The rain dripped through the tiles drop by drop in a constant rhythm, like Chinese torture. We had no cooking gas, and smoke would billow from the earthern chulha from the wet firewood, smarting her eyes. It was the same at night when we kept moving our beds to avoid the rain drops. I hate the rains till now.
There was little I could do as I was still a young boy. Amma did not want me to grow up like other children who had become bread-earners for their family. Poverty had leapfrogged over their youth, and they grew old overnight.
Seeing Amma slave for us, I wanted to grow up faster, so that I could at least provide a cement roof over her head, if nothing more.
In my childhood, I would sometimes wake up at night and keep watching my mother asleep, hoping she was alive. When I could not see her breath rise and fall, I would put my ear next to her to hear her heart-beat.
Once Amma asked me the reason for my behaviour. I sheepishly told her that I was seeing if she was still alive. "I do not want you also to die," I said.
That night, for a long time, Amma sat by my side telling me that she too had a mother whom she loved very much, and who died. Her mother too had a mother whom she loved very much and who died. Persons eventually die, and a child takes over from the parents, she said.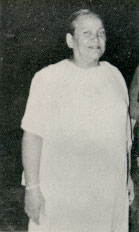 Amma