To Hell With Hockey
The Autobiography of Aslam Sher Khan
By Matin Khan, Allied Publishers, 1982
Page 1
Page 2
Page 3










Page 4
Page 5
Page 6

My Father,

My Role Model

In 1966, father fell ill and was admitted in the Hamidia hospital. During this period, I was selected in the All India schools hockey team.

The coach of the team was the famous hockey player Roop Singh, who played with my father in the 1936 Olympics in Berlin.

When Roop Singh visited my father in hospital and praised my performance, he broke down and sobbed. A few days later, he passed away.

Page 7
Page 8
Page 9
Page 10
Page 11
Page 12

y father, Ahmed Sher Khan, represented India at the Berlin Olympics in 1936 along with Dhyan Chand, the legendary wizard of hockey. Decades later, Dhyan Chand's son Ashok Kumar and myself were destined to play together for India.
After the 1936 Olympics, Ahmed Sher Khan married a lissome Pathan lass called Ahmedi, who bore him two daughters and me.
"Your father had a streak of madness in him," my maternal grandfather used to say. "Like you, he had a great obsession for hockey. He made your mother promise that if they had a son, she would bring him up to be a hockey player."
Our day would begin early, with my father waking me up before dawn. We would leave home and start running in Bhopal's deserted streets. At ten in the morning, father used to leave home to earn his living.
At six every evening, we would see the front wheel of his bicycle entering home. After he came home, we would go to the Saidia school ground, where my father would teach me the art of dribbling, dodging, tapping, pushing and hitting.
Among other players at practice was Inam-ur-Rehman. "Watch Inam," my father would say. "He plays like a well-honed machine. One day he will be the best left-in in the world." My first hockey stick was selected for me by Inam at my father's request. That broken stick is still one of my most cherished possessions.
My father never selected me to play for the school team, even though he was the coach. Whenever I asked my father about it, his stock reply would be, "you still have a lot to learn."
As I look back, I realise that my father's old world values restricted my selection - he wanted to avoid any accusation that the coach had selected his own son for the team.
During monsoons, when the rains lashed Bhopal and it was impossible to play hockey, father would take me fishing. We would sit on a parcha, a stone outcropping jutting out of the water, and angle for fish the whole day.
"Fishing will help you to play hockey better," I can still hear him say. "Watch that float bobbing up and down the water. Think of it as a ball, concentrate on it, only on it."
In 1966, father fell ill and was admitted in the Hamidia hospital. During this period, I was called up for the All India schools hockey camp at Bhopal. I did not want to go. I only wanted to be at my father's bedside.
My father told me to go for the trials, saying "The more you play, and the better you play, the more I'll know you love me." My father never raised his voice. Anything my father said in his soft-spoken voice was like an order to me.
I was selected in the All-India schools hockey team as a forward. The coach of the team was the famous hockey player Roop Singh, who played with my father in the 1936 Olympics in Berlin.
When Roop Singh visited my father in hospital and told him about my selection and praised my performance, father broke down and sobbed. A few days later, father passed away.
When my father died, I was 13. During the time fate allowed us to live together, he took me to many hockey tournaments, and made me watch great players in action. My teenage ambition was to represent my country in hockey in the Olympics. Like my father.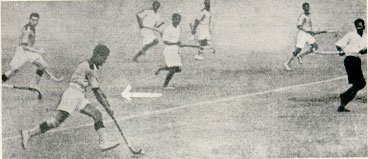 Ahmed Sher Khan and the Indian team in Chennai en route to the Berlin Olympics (1936)