To Hell With Hockey
The Autobiography of Aslam Sher Khan
By Matin Khan, Allied Publishers, 1982
Page 1
Page 2
Page 3










Page 4
Page 5
Page 6

Asian All-Stars

Shahnaz was the star attraction, but I checked him so effectively that he told me during the breather, "let us not cheat the public of their money's worth. After all, this is an exhibition match, not a championship."

Shahnaz did not understand that I wanted to prove that if he was the world's best inside-left, I too was as good a right full-back. I could not reconcile myself to any defeat, even while playing marbles at school.

Page 7
Page 8
Page 9
Page 10
Page 11
Page 12

fter the Teheran Asian Games loss to Pakistan, I was in tears. Pakistani centre-forward Abdul Rasheed walked up to me and complimented my performance. "Next time," I told him through my tears, "it would be different."
A tired, perspiring Shahnaz, who had shifted from inside-left to inside-right to avoid me, shouted back, "There won't be a next time, Aslam." Shahnaz was wrong. The next time was just a month later, when the Asian All-Star team played a series of matches in India.
So popular was this series that what was originally supposed to be seven matches in the itinerary, eventually doubled to fourteen. We began the series at Jalandhar, where a 35,000 strong crowd had gathered to see the Indians and Pakistanis play as a team.
Shahnaz obviously was the star attraction, but I checked him so effectively that he walked up to me during the breather and said, "let us not cheat the public of their money's worth. After all, this is an exhibition match, not an international championship."
Shahnaz did not understand that I wanted to prove that if he was the best inside-left in the world, I too was as good a right full-back. Moreover, I could not reconcile myself to any defeat, even while playing marbles at school.
The Indian team was awarded a penalty corner against the Asian All-Stars. My shot hit the inner side of the goalpost and boomeranged. A chip flew out of the goalpost. Since the ball had crossed the goal-line, umpire Gurdev awarded a goal to us.
The ball was back at the centre, waiting for the game to begin, when Ajitpal Singh, playing for the Asians, convinced the umpire against the decision.
We lost to the Asian All-Stars at all venues, except in Bangalore, where we held them to a draw. But victory and defeat had a low premium in that sporting winter of 1974. The achievement of having people from the Asian region play together and function as a single team had greater significance.
The Asian All-Star forwards were described as the five bullets against whom was pitted one man - Aslam Sher Khan.
The well known sportswriter A. F. S. Talyarkhan wrote in the weekly Blitz, "the sole interest of this grand exhibition fixture was to see how India's outstanding full-back Aslam Sher Khan would once again hold the flying Pakistani forwards at bay. Leslie Claudius was dead right when he stated that Pakistan should have won by a very wide margin over India at the Teheran Asian Games.
But Aslam had effectively policed the Pakistani wizard Shahnaz, and compelled the world's best inside-left to change over to the inside-right position. A tremendous compliment to the right full-back's anticipation, tackling and covering. For the Indians, Aslam Sher Khan was the towering figure in every sense of the word."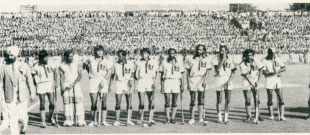 Indian Team vs. the Asian All-Stars in Delhi