To Hell With Hockey
The Autobiography of Aslam Sher Khan
By Matin Khan, Allied Publishers, 1982
Page 1
Page 2
Page 3










Page 4
Page 5
Page 6

Old, Dark

Slimy, Balding

Homosexual

I was not played the next day. After the match, I cornered the coach in his room. "Your were my father's friend. You are a bastard. To hell with you. To hell with hockey."

I broke my hockey stick, flung it at him, and stormed out of the room. I promised that I would never touch a hockey stick again.

But destiny had other ideas for me ....

Page 7
Page 8
Page 9
Page 10
Page 11
Page 12

hen does a man begin to live? How does a person learn to die?
To me, Aslam Sher Khan, born in a kuchcha-tiled roof house in Bhopal, began to live and learned to die in the same year - 1969.
I had been selected to play for Bhopal in the National Hockey Championship in Ernakulam in 1969. I was dropped for the semi-final because I refused to join the 55-year old coach of the team in bed.
Bhopal is a small town. A forsaken acre where religious and social rigidity had established the purdah system. And where adolescent urges found expression in homosexuality. The prevalence of this trait in a state ruled by women for five generations is inexplicable.
This trait was frowned upon by parents, who kept a strict check on young boys so that they did not make friends with someone older. Hockey clubs became a respectable alibi where coaches, known as Ustads, groomed talented boys to perform on the field, and in bed. It was rumoured that the basis of selection to the state team was not only active excellence in hockey, but also passive participation in games indulged by the Ustads off the field.
My father allowed me to play hockey whenever I wanted, and wherever I wanted, except in the clubs. "It will keep his mind off sex," he used to tell my uncle. It was my father's creed that sex and sports do not go together.
The selection trials for the 1969 Bhopal team were held at Aishbagh grounds. The coach asked me to see him everyday after play at Ibrahimpura, the nerve center of Bhopal. The various Ustads would discuss the day's play, analyse the player's performance, and indulge in sports politics over rounds of tea.
Before my selection to the state team, the coach asked me to come over to his place to take the state colours. I had been told that if you are called to take the jersey personally, and you do not respond to the overtures, you will be considered no good. I spent a restless night, more so as I could not tell anybody about it, especially my mother.
In the morning, I cycled across to his place. He gave me the jersey, praised my talent, and planted a kiss on my cheek. I considered this a congratulatory peck, but thereafter, maintained a distance from the coach.
In the 1969 Ernakulam Nationals, Bhopal won 2 matches and were to play in the semi-finals. As I sat mentally preparing for the match, fate intervened.
Outside-left Shaheed Noor (who later captained Bhopal and played for India), informed me that the coach wanted to see me. The coach had a straight proposition. I should sleep with him, if not, I would not be played the next day, or any day after that for Bhopal, as long as he was the coach.
So this was the bottom line, from this old, dark, slimy balding coach. Nausea washed my gullet. I rejected his proposition.
I was not played the next day. After the match, I cornered the coach in his room. "You were my father's friend," I yelled. "You are a bastard. To hell with you. To hell with hockey."
I broke the hockey stick, flung it at him, and stormed out of the room. I promised that I would never touch a hockey stick again.
But destiny had other ideas for me ....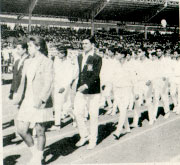 Aslam Sher Khan, Selected for the Indian Schools Team (1966)