To Hell With Hockey
The Autobiography of Aslam Sher Khan
By Matin Khan, Allied Publishers, 1982
Page 1
Page 2
Page 3










Page 4
Page 5
Page 6

Politics,

Dirty Politics

Three days before the election, the General Secretary of the Bhopal Hockey Association, Mashkoor Hassan, went underground.

Mashkoor later surfaced on election day with the Ramaswamy group, having been billeted in an exclusive hotel those three days.

So intense was the politicking at this stage that the returning officer, Justice Gajendra Gadkar, opted out of the election.

Page 7
Page 8
Page 9
Page 10
Page 11
Page 12

he Indian Hockey Federation (IHF) was paralysed by internal strife in 1974. A lot of criticism was directed at the IHF for biased selections at the national level, and the need to open hockey's doors to all regions and to all religions.
This was partly due to the fact that Indian Airlines was repeatedly pin-pricking the bloated myth of Punjab's supremacy in hockey by winning tournament after tournament. The Indian Airlines team was drawn from all parts of the country, and from all religions.
IHF President Ashwini Kumar had to step down under a cloud. The new claimants to the position were P. N. Sahni (considered to be Ashwini's man), and M. A. M. Ramaswamy, a millionaire industrialist from the south.
These two factions were more concerned with the impending IHF elections rather than selecting a cohesive team for the 7th Asian Games at Teheran. India ended up losing to Pakistan in the 1974 Asiad final.
The IHF elections were slated to be held at the National Stadium in Delhi, in the first week of December, 1974. Bhopal was once again responsible for creating a controversy during the elections. Bhopal ended up having two people representing the association at the election.
Three days before the election, the General Secretary of the Bhopal Hockey Association, Mashkoor Hassan, went underground. Mashkoor later surfaced on election day with the Ramaswamy group, having been billeted in an exclusive hotel those three days.
When Mashkoor went underground, an emergency executive meeting was called by the IHF, and the Sahni group picked vice-president Nagu, a retired Inspector General of Police, as Bhopal's representative.
So intense was the politicking at this stage that the returning officer, Justice Gajendra Gadkar, opted out of the election.
On election day, the votes were evenly distributed between the Sahni group and the Ramaswamy group. Bhopal's would be the deciding vote. The Sahni group staged a walkout when it was ruled that Mashkoor, and not Nagu, would vote for Bhopal.
With the walkout, M. A. M. Ramaswamy was elected the new president of the IHF. The stalemate had ended. It would still take a few more months for his election victory to be recognised.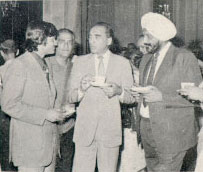 With Ashwini Kumar and Raja Bhalindra Singh