The Golden Hat-Trick
The Autobiography of Balbir Singh (Senior)
By Samuel Banerjee, Vikas Publishers, 1977
Page 1
Page 2
Page 3










Page 4
Page 5
Page 6

A Holiday Cut Short

I was toying with the idea of taking up some coaching assignment and settling abroad, maybe in Canada.

I saw no opening for me in the Sports Department. I had actually been promoted and the orders had been issued, but due to deep-rooted intrigues, they were cancelled.

There were many hands working at cross-purposes, and I was dissatisfied.

Page 7
Page 8
Page 9
Page 10
Page 11
Page 12

merica was the one continent I had not been to in my hockey career. The IHF had planned to send teams to USA twice in the 1950s, but the trips could not materialize. When I got an invitation from the John F. Kennedy Memorial Hockey Tournament (Washington DC) to be its chief guest, Sushil and I were interested.
Essentially a club contest, the Kennedy Memorial Tournament draws teams from Europe, Africa, America, Pakistan and India. Our own Indian Airlines have won it once. There is a lot of back-slapping, hugging and light-hearted banter on and off the ground, and the players seem to enjoy the fun.
Frankly, I was also toying with the idea of taking up some coaching assignment and settling abroad, maybe in Canada. I saw no opening for me in the Sports Department. I had actually been promoted to Director of Sports, Punjab Government, in 1962. The orders had been issued, but due to deep-rooted intrigues, they were cancelled before I could take over. There were many hands working at cross-purposes, and I wasn't satisfied with what I was doing.
We left our two younger sons Karanbir (Ringo) and Gurbir (Gugu) in the care of father, and went abroad on a 3-month holiday beginning in October 1974.
While touring United States, lecturing about hockey in the universities and colleges, I was unaware of the hockey developments back home. Letters from Ringo and Gugu kept us informed on the health of father.
Sometime in the middle of November, we had startling news from home. Ringo and Gugu informed us that I had been assigned to take charge of the Indian team for the 1975 World Cup - my first national coaching job since the 1962 Ahmedabad International. I could not believe it.
I got a cable from the Punjab Government telling me that my leave had been cancelled, and that I was to rush back and take charge of the camp. Sushil and I returned from a happy holiday on December 13, and I took charge of the camp 12 hours later.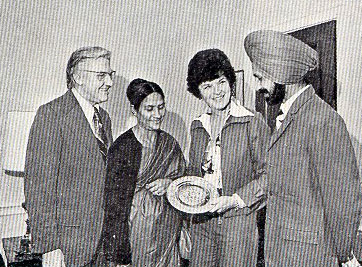 Washington, October 1974