The Golden Hat-Trick
The Autobiography of Balbir Singh (Senior)
By Samuel Banerjee, Vikas Publishers, 1977
Page 1
Page 2
Page 3










Page 4
Page 5
Page 6

Lahore, My Lahore

Sushil explained that she was from India, and that she only wanted to see her old house.

The old woman observed painfully, "What an accursed time we are living in. The very people who owned the house once, now have to seek permission to visit the rooms!"

Sushil burst into tears as she saw the ill-kept drawing room that she once used to decorate with fresh flowers. She sobbed bitterly.

Page 7
Page 8
Page 9
Page 10
Page 11
Page 12

ll Punjabis, especially those of the pre-Partition days, talked nostalgically of Lahore. The city was the nerve centre of the entire Punjab. The people were proud of their city.
In the early 1950s, when we started having regular exchanges with sports teams in Pakistan, my mother-in-law was most happy. She would see in each visit signs of a thaw in Indo-Pak relations. She pined for the day when she could return again to her 'dear Lahore.'
In 1953, we had an exchange of tours with the West Punjab police team. Inspector General Sant Parkash Singh, his deputy Ashwini Kumar, and a few more police officers accompanied the team on our tour to Pakistan.
The officers extended a unique concession by allowing players who had wives hailing from West Punjab to bring them along for the tour. "I must visit our Lahore home" Sushil exclaimed happily the moment she heard of it. "I will see my Lahore once again."
The wives of Dharam Singh, Tarlochan Singh, Bakshish Singh and Ram Parkash joined the touring party along with Sushil. Hundreds of people came to wish us luck. It was as if they were sending off the team to a major international tournament.
A massive reception awaited us at Lahore. The Pakistani officials lodged us at the Police Lines guest house. But with hundreds of fans and well-wishers calling on us, they shifted us to civilian areas.
Sushil wanted to see her childhood house in Model Town. A special police escort was provided, and we went to see the old 'Sandhu Sadan' the next day. Sushil behaved as if she were going on a pilgrimage. This house, now on alien soil, was witness to our early outpourings of love - it was here that I had first met Sushil.
As we crossed the brown and patchy lawn - it used to be lush green in the 1940s - we were greeted by an old lady. She seemed amazed by the presence of Sushil and the policemen.
"I don't think there is any room in the house for you. Five families are already sharing its roof," she said, thinking that we were prospective tenants.
When Sushil explained to her that she was from India, and that she only wanted to see her old house, the old woman observed painfully, "What an accursed time we are living in. The very people who owned the house once, now have to seek permission to visit the rooms!"
Sushil burst into tears as she saw the ill-kept drawing room that she once used to lovingly decorate with fresh flowers in neat vases. She sobbed bitterly.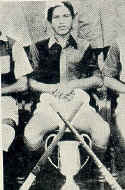 Author's Photo in 1940, Pre-Independence, Pre-Partition