The Golden Hat-Trick
The Autobiography of Balbir Singh (Senior)
By Samuel Banerjee, Vikas Publishers, 1977
Page 1
Page 2
Page 3










Page 4
Page 5
Page 6

Sushbir is Born

Sushil's mother joined us as the date for the birth of our first child drew nearer. Her presence in the house was a great morale-booster. For I was shortly called away to prepare the new Punjab Police team for the season ahead.

On December 21, 1948, while I was in Ambala on a coaching stint, I got a telegram from Ferozepur Cantonment. Sushbir was born.

Page 7
Page 8
Page 9
Page 10
Page 11
Page 12

radually the excitement of our 1948 Olympic triumph faded, and I was happy to lead a more normal life. "Don't rest on your oars," father told me before leaving for Moga.
Sushil's mother joined us as the date for the birth of our first child drew nearer. Her presence in the house was a great morale-booster. For I was shortly called away to prepare the new Punjab Police team for the season ahead.
By that time, Sant Prakash Singh and Ashwini Kumar had gone ahead with their recruitment scheme. We now had within our ranks Tarlochan Singh, Dharam Singh, Udham Singh and Bakshish Singh, all established players in their own right.
On December 21, 1948, while I was in Ambala on a coaching stint, I got a telegram from Ferozepur Cantonment. Sushbir was born.
Almost simultaneously, Ashwini gave me another piece of good news. I had been promoted to Inspector, and posted to the Punjab Armed Police headquarters at Jalandhar cantonment.
Sushbir had brought us luck.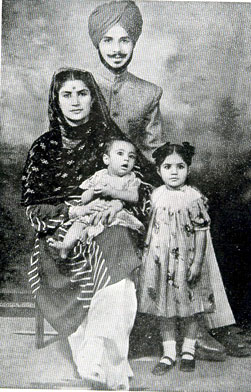 Author, Sushil, daughter Sushbir, son Kanwalbir (1952)