The Golden Hat-Trick
The Autobiography of Balbir Singh (Senior)
By Samuel Banerjee, Vikas Publishers, 1977
Page 1
Page 2
Page 3










Page 4
Page 5
Page 6

India - Britain Final

The match started with chants of 'Come on Britain'. Our opponents were full of confidence as they had beaten Pakistan 2-0 in the semi-finals, shutting out all hopes of a new nation.

The ground had become slippery and wet due to a slight drizzle. Kishan Lal and Babu took off their shoes and played barefoot. In the first half I scored twice from hits taken from top of the D, off passes from Kishan Lal and Babu.

Page 7
Page 8
Page 9
Page 10
Page 11
Page 12

ritain had been Olympic hockey champions in the 1908 Games at London and in the 1920 Games at Antwerp. Once India made their entry in the 1928 Games at Amsterdam, they decided not to play. Britain never played an India XI as long as they remained our rulers. The 1948 Olympic hockey final was the first meeting between Britain and India.
In the final, I was back in the team. The Indians, especially the migrants who formed a sizeable part of the crowd, clamoured for my inclusion. Chatterjee put his foot down and insisted to the tour selection committee that I must play.
The match started with chants of 'Come on Britain'. Our opponents were full of confidence as they had beaten Pakistan 2-0 in the semi-finals, shutting out all hopes of a new nation.
The ground had become slippery and wet due to a slight drizzle. Kishan Lal and K. D. Singh 'Babu' took off their shoes and played barefoot. In the first half I scored twice - both hits taken from the top of the circle, off passes from Kishan Lal and Babu.
Tarlochan Singh converted a penalty corner early in the second half and Pat Jansen scored a field goal to end the British hopes. We were on the attack throughout. The spectators were thrilled. The gold medal was ours.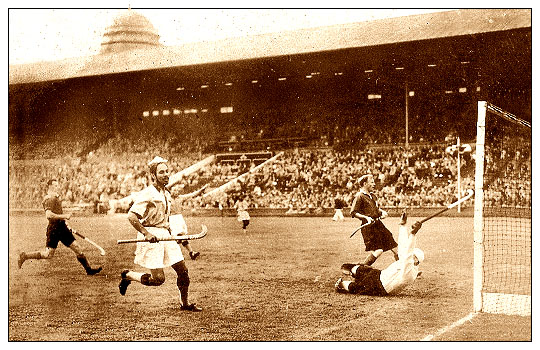 Author Scoring Goal in the 1948 Olympic Final