The Golden Hat-Trick
The Autobiography of Balbir Singh (Senior)
By Samuel Banerjee, Vikas Publishers, 1977
Page 1
Page 2
Page 3










Page 4
Page 5
Page 6

The Early Rounds

Disciplined as they always are, Britons never took more than what was necessary for each man - this gave us an insight into the British character.

The Britons had been our rulers for 200 years. But the men we met in England were poles apart from the image of the tough rulers that we knew back home. They in fact went all out to befriend us.

Page 7
Page 8
Page 9
Page 10
Page 11
Page 12

ar-ravaged England was just beginning to re-emerge. The Britons were in a phase of reconstruction. Yet they did an excellent job of organizing the London Games at short notice.
Disciplined as they always are, Britons never took more than what was necessary for each man - this gave us an insight into the British character. The Britons had been our rulers for 200 years. But the men we met in England were poles apart from the image of the tough rulers that we knew back home. They in fact went all out to befriend us.
It was at the London Olympics that Pakistan made their first appearance. The Indian and Pakistani teams were billeted at different places. We first met at Wembley Stadium during the ceremonial opening of the games. Niaz Khan, A. I. S. Dara, Shah Rukh, Mehmood and Aziz saw us, but I was surprised to see that our old friends were deliberately keeping a distance from us. The openness of old was gone.
When the hockey competition opened, I was not included in the first match. I played in the second match against Argentina, when Reggie reported sick. We won 9-1, and it turned out to be a great debut for me in Olympic hockey. I scored 6 goals, including a hat-trick.
For the match against Spain, I was asked to get ready. Just before I was entering the ground, I was told to stay back at the instance of Pankaj Gupta, who was keen on Nandi Singh. We managed to win with a great deal of difficulty.
In the semi-final against Holland, I was selected in the first XI. I actually entered the ground and was about to bully off, when Kishan Lal told me that Chatterjee and Pankaj Gupta wanted me back in the pavilion. Glacken, instead, would play the match. Again India was faced with a tough defence, and we managed to win 2-1.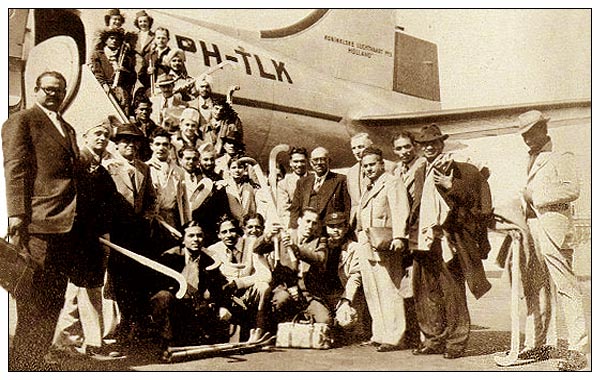 En Route to the 1948 London Olympics