The Golden Hat-Trick
The Autobiography of Balbir Singh (Senior)
By Samuel Banerjee, Vikas Publishers, 1977
Page 1
Page 2
Page 3










Page 4
Page 5
Page 6

Selected for London

The following year, while playing in Ferozepur's Hearne Park (now Nehru Park), a telegram was delivered to me. It was from the IHF, asking me to join the camp for the Indian Olympic probables in Bombay.

I was elated. I took the first train to Bombay. Johnny Carr and Habul Mukherjee were in charge of the camp. I was 24 years old when I earned my India colours. It was the biggest moment of my life.

Page 7
Page 8
Page 9
Page 10
Page 11
Page 12

he 1946 Calcutta national championship brought me into the national limelight. I had scored goals heavily in the Nationals and the sports scribes labeled me and Gurbachan Randhawa as the finds of the season and the future hopes of India.
After the 1947 Bombay Nationals, the IHF formed an India probable team. I learnt from the newspapers that I had made the 22 member team. Joining me were my Punjab team colleagues Tarlochan Singh, Ram Swarup and Amir Kumar. Over a 4-week span, we played matches all over India, and even Kandy and Colombo in Ceylon. I scored more than half the goals of my team as centre-forward, the position in which I was by now firmly established.
The following year, while playing in Ferozepur's Hearne Park (now Nehru Park), a telegram was delivered to me. It was from A. C. Chatterjee, secretary of the Indian Hockey Federation, asking me to join the camp for the Indian Olympic probables in Bombay.
I was elated. I took the first train to Bombay. Johnny Carr and Habul Mukherjee were in charge of the camp. I was among the 20 players chosen for the London Olympics. I was 24 years old when I earned my India colours. It was the biggest moment of my life.
In the team for London, there were as many as 7 players from Bombay - Reggie Rodrigues, Maxie Vaz, Leo Pinto, Walter D'Souza, Lawrie Fernandez, R. S. Gentle and Amir Kumar. Among the centre-forwards were Reggie Rodrigues, Glacken (Bengal) and myself. Shakur, another centre-forward, was the unofficial 21st member of the team, and went on his own from Bhopal.
Our vice-captain was K. D. Singh 'Babu', a flamboyant player as mercurial as his flashy game. He was the absolute opposite of the self-effacing right-winger Kishan Lal (Railways), who was named captain. A. C. Chatterjee and Pankaj Gupta were our joint managers.
We were given no time to return home and bid goodbye to our near ones. Around this time, Sushil was expecting our first born. I wrote home to her as often as I could to keep her happy.
The team left for London two weeks before the Olympics. On the tarmac of London airport, Sir John Bennett, then member of the Olympic Reception Committee, received us with warmth. He was the man who had inducted me into the Punjab Police force. Sir John hugged me, a possibility that may never have arisen in British India.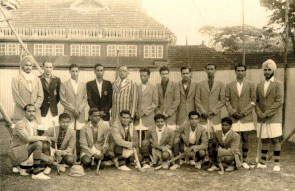 Indian Team in Mumbai (1947 - Before Partition)