The Golden Hat-Trick
The Autobiography of Balbir Singh (Senior)
By Samuel Banerjee, Vikas Publishers, 1977
Page 1
Page 2
Page 3










Page 4
Page 5
Page 6

Partition of India

In an incident that took place just 7 miles from Ludhiana, a woman and her two sons, aged 10 and 6, got off a packed bus. The boy's father had been killed in the riots.

She was tying her soiled bundle when a speeding car crushed them to death.

So mangled were the bodies that no one could recognize them. The family had fled Pakistan only to be killed 2 miles from home.

Page 7
Page 8
Page 9
Page 10
Page 11
Page 12

he partition of India in 1947 brought forth many woes; the holocaust of carnage, loot, murder and rape; the painful birth of a new nation, the agony of separation and the estrangement of friends and families; the division of assets, of armies and bureaucrats, and of land and property.
In my career with Punjab Police, especially during Partition, I saw human emotions in the raw. We had almost hourly calls to investigate fires, killings, abduction and loot, both in the far-flung areas of cities and in the nearby villages.
When the refugee influx was in full swing, we had a report that three villages of one community had been attacked, looted, pillaged and set on fire by the extremists of another community. When we reached the place, tongues of flames were leaping into the dark skies.
The only living beings were dogs howling away into the night. The cattle tethered to the shed had been burnt alive. Scores of men, women and children had perished in the massacre. An equal number of young women were abducted or raped.
In an incident that took place just 7 miles from Ludhiana, a woman and her two sons, aged 10 and 6, got off a packed bus. The boy's father had been killed in the riots. The mother fed her hungry children stale crumbs of bread and gave some water to quench their thirst. She was tying her soiled bundle when a speeding car knocked them down and crushed them to death. So mangled were the bodies that no one could recognize them. The broken family had fled Pakistan only to be killed 2 miles from their relative's place.
On another occasion, it was reported that the stench of rotting human flesh was emanating from a warehouse in a small village. I went to investigate the crime with a police posse. We broke open the door of the warehouse. All we could see was wheat bran stored 8 feet high. My men searched through the wheat bran and recovered, one after another, 7 bodies of a Sikh family. The bodies were of a mother and her 6 children.
Moga too was in the grip of trouble. Father refused to leave his post and served both communities selflessly. A nationalist to the core, he tried to save a middle-aged Muslim who had been chased by an angry mob by hiding him in the Dev Samaj school. Father served him selflessly for 10 days, bring him meals and caring for him in every possible way.
Father promised to escort him to the refugee camp for Muslims, and advised him to disguise himself with a turban and kaccha (Sikh-styled underwear). The Muslim refused point blank and fled, and was killed only a few hundred yards away.
In those troubled days of partition, there was a mass exodus of people fleeing to Lahore, or fleeing from areas that later formed Pakistan. Man had lost faith in man, and suspicion was the order of the day. Such incidents shook me badly, and were it not for the goodness of my loved ones, I would have lost faith in mankind completely.
Partition left the nation divided of talent in every field. In sports, hockey was particularly affected, and we in Punjab were the hardest hit. The 1947 National Championship in Bombay was the last time a team from undivided Punjab would play in India. On our return to Lahore, my friends Shah Rukh, A. I. S. Dara, Aziz and Khurram all stayed back in Lahore and adopted the colours of the new nation.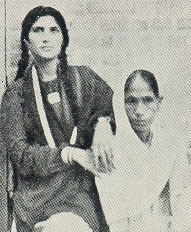 Author's Wife and Mother (1949)