The Golden Hat-Trick
The Autobiography of Balbir Singh (Senior)
By Samuel Banerjee, Vikas Publishers, 1977
Page 1
Page 2
Page 3










Page 4
Page 5
Page 6

Marriage to Sushil

Sushil and I got married on November 27, 1946. Our 20-day honeymoon may sound dull by modern standards.

We did not go to some hill resort, as is the fashion nowadays. We travelled back to my parents place in the village of Moga, stayed there for 15 days, and returned to Lahore.

I left Sushil in the care of her mother and rejoined my duty in Ludhiana.

Page 7
Page 8
Page 9
Page 10
Page 11
Page 12
n the next two years, there was a major change in my life. I met Sushil, my 'girl friend' of 31 years, and fell in love at first sight. Cupid's arrow had found its mark, and profound love welled deep inside me.
She was twenty when we met at her posh bungalow in Model Town, Lahore. Ajmer Singh Sidhu, a family friend and my teacher, gave me a letter to be delivered to Sushil's house. It was a ruse to introduce me to the family.
When I called on the Sandhus, a young girl opened the door. She was Sushil. She asked me to wait outside while she disappeared through the drawing room to deliver the letter to her mother. She returned and welcomed me with a smile. We were introduced formally, and I had my first meal with the Sandhus as a shy outsider. I liked Sushil. Our affection grew as we began exchanging letters.
I was in the Punjab team that won the 1946 National Championship in Calcutta. It was after 14 years that we were carrying the national championship back to Lahore. The Punjab Hockey Association president, Sir John Bennett, was on hand with other hockey officials to receive our victorious team at Lahore Railway Station. We were given a public reception.
I was itching to see Sushil. - love can make any man restless. I hopped into a taxi and sped to Sushil's house, seven miles away. I gave my first national hockey medal to her as a keepsake. She pretended to protest, but eventually accepted it, blushing coyly. I patted myself for being a Casanova. Our love blossomed.
Sushil and I got married on November 27, 1946. Our 20-day honeymoon may sound dull by modern standards. We did not go to some hill resort, as is the fashion nowadays. Instead, we travelled back to my parents' place in Moga, stayed there for 15 days, and returned to Lahore. I left Sushil in the care of her mother and rejoined my duty in Ludhiana.
Colonel A. I. S. Dara captained the last team of undivided Punjab in the 1947 nationals. I played center forward with Dara as the inside-right. We beat hosts Bombay by a solitary goal in the final, which was played at the packed Bombay Hockey Association ground near Dhobi Talao. It was the first week of April 1947 when we returned to Lahore to receive the ovation of the home supporters at the railway station.
By now the partition disturbances had started taking an ugly turn. The pace of killings was increasing at an alarming rate. Dara escorted me halfway to my destination - Model Town, where I went to meet my wife Sushil.
With the partition riots brewing, I brought Sushil away to Ludhiana. She had been brought up in comfort and never lacked the best amenities of life. Now she had to live in the police quarters adjoining the Sadar Police Station. It was a small and dingy room, meant for constables. There was no electricity. How she managed in the small room still baffles me.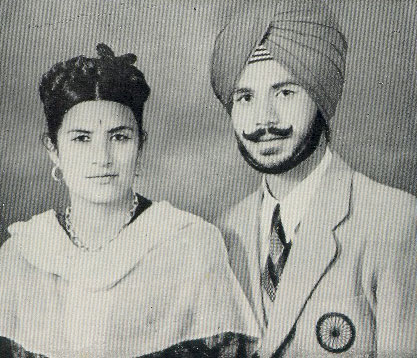 Sushil and Balbir (Jalandhar, 1957)