The Golden Hat-Trick
The Autobiography of Balbir Singh (Senior)
By Samuel Banerjee, Vikas Publishers, 1977
Page 1
Page 2
Page 3










Page 4
Page 5
Page 6

My Alma Mater

We travelled to Trivandrum for the inter-zone finals. In Trivandrum, we covered ourselves with glory by defeating Osmania University in the All-India inter-university final.

We had sight-seeing tours of the glorious South. We saw several cities and also saw Cape Comorin. My first view of the rising sun at Cape Comorin is a memory etched in my mind's eye for ever. I have never beheld a more awe-inspiring sight in my life.

Page 7
Page 8
Page 9
Page 10
Page 11
Page 12

portsmen were held in high esteem in Khalsa College, and there was a perfect atmosphere for sports. Khalsa College had several playgrounds, including four hockey pitches, that kept hundreds of young men engaged in various sports disciplines.
The hockey pitches were always crowded with boys eager to learn. There were at least 100 boys playing hockey alone each day. It was not easy to qualify for the main pitch, where the top players practised together under the watchful eyes of coach Harbail Singh.
Khalsa College added a new dimension to my personality - mental development. My mentors taught me to be more resourceful and open-minded, and to think logically and critically under pressure. My mentors also instilled in me the necessity of hard training.
In December 1942, Khalsa College won the Punjab University championship. By the end of the 1942-43 academic year, I was selected to represent Punjab University. This great institution was not as small as it is today. Its jurisdiction extended to the whole of united Punjab, Jammu and Kashmir, Sindh and Rajasthan.
It was no easy task to earn the university colours. There was no dearth of talent. Our university team beat Aligarh Muslim University in the north zone inter-university final. We then travelled to Trivandrum for the inter-zone finals. In Trivandrum, we covered ourselves with glory by defeating Osmania University in the All-India Inter-University final.
We had sight-seeing tours of the glorious South. We saw several cities and also saw Cape Comorin. My first view of the rising sun at Cape Comorin is a memory etched in my mind's eye for ever. I have never beheld a more awe-inspiring sight in my life.
Punjab University would win the All-India inter-university titles for 3 years in a row - 1943, 1944 and 1945.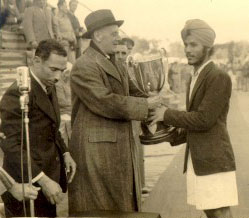 Punjab University Wins Punjab State Championship (Lahore - 1945)