The Golden Hat-Trick
The Autobiography of Balbir Singh (Senior)
By Samuel Banerjee, Vikas Publishers, 1977
Page 1
Page 2
Page 3










Page 4
Page 5
Page 6

My Hockey Coach

Harbail saw something special in me. When other boys would go home or return to the hostel, he would ask me to stay on.

For at least an hour and a half, he would make me dribble all by myself, see the top of the 'D', and then hit into the goal.

To this day, I am indebted to this man, my coach, my guru, my philosopher, my guide, for moulding my career on the right lines.

Page 7
Page 8
Page 9
Page 10
Page 11
Page 12

arbail Singh was my coach since my college days at Khalsa College (Amritsar). Harbail was simplicity personified; he was sincere to a fault, selfless and self-effacing.
Harbail Singh spotted me as a promising hockey player. He wrote repeatedly to my father, requesting that I transfer from Sikh National College (Lahore) to Khalsa College (Amritsar), where he was the coach. But my father would have nothing to do with it. He felt that Sikh National College was the institution to bring me into the spotlight. I could dare not disobey my father.
Finally, in 1942, father agreed to my desire to join Khalsa College. Harbail Singh wasted no time. Four players from Khalsa College, sent by Harbail Singh, came to Lahore and literally forced me to go with them to Amritsar. I went without my luggage. Harbail at once made me sign forms and I was admitted. The luggage followed later.
We used to have early morning skipping followed by long stretches of running to strengthen our calf and thigh muscles and to improve our stamina. Then there was the hockey ground for practice, more practice and still more practice. That was my world.
Harbail saw something special in me. When other boys would go home or return to the hostel, he would ask me to stay on. For at least an hour and a half, he would throw the ball in different directions, make me dribble all by myself, see the chalk line on top of the 'D', and then hit into the goal with all my force. Those hours were hours of hard work, sweat and toil.
To this day, I am indebted to this man, my coach, my mentor, my guru, my philosopher, my guide, and indeed my best hockey friend, for moulding my career on the right lines.
Harbail guided our national team to the pinnacle of glory at the Helsinki and Melbourne Olympics. However, Harbail was not retained as coach for the Rome Olympics. The defeat of India at the Rome Olympics must have come as a rude shock to him. Two days after the 1960 Olympic final, he died in an air crash in Italy. Perhaps it was a symbolic end; he did not wish to live any more.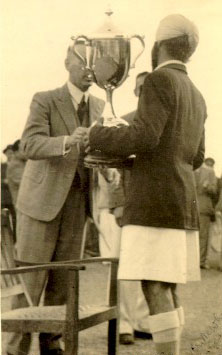 Punjab University Wins All India Inter-University Title (Lahore - 1945)