The Golden Hat-Trick
The Autobiography of Balbir Singh (Senior)
By Samuel Banerjee, Vikas Publishers, 1977
Page 1
Page 2
Page 3










Page 4
Page 5
Page 6

My Hockey Idol

A Dutch journalist wrote about the early Indians in glowing terms:

The Indian ball seems ignorant of the laws of gravity. One of these tanned diabolical jugglers stares at the ball intently; it gets upright. It only proceeds on its way when a player has bestowed a nod on approval on it.

This is no longer the game of hockey. It is a juggling turn. It is splendid.

Page 7
Page 8
Page 9
Page 10
Page 11
Page 12
n my college days, my mind strayed from the book too often, not driven by the thought of any girl, but with the mental pictures of of jugglery that a man called Dhyan Chand had set the nation afire with. Dhyan Chand is till this day a household name in India.
Some months earlier, I had seen a movie on the exploits of our 1936 Olympic team. It got etched in my mind as something of a masterpiece. The experience was a thrilling one for me.
The early Indians were hailed as the finest exponents of the game. A Dutch journalist wrote about them in glowing terms. I have often wondered why this brilliant exposition on Indian hockey could never be included in our text books. The piece describes our hockey in a riot of colours. The journalist wrote:
The Indians wear celestial blue jumpers with white sleeves and white Byron collars. Seen from above they are revue girls, but from below they are of steel. They play, and their stick is in turn their fork, their spoon and their knife. It also serves them as a waiting tray.

Up whistles the ball, and they catch it on the outside of the stick, and there it lies as if it were tucked away in a lady's work basket. They run away with it at express train speed, all the while the ball remaining peacefully stuck to the end of the stick.

The Indian ball seems ignorant of the laws of gravity. One of these tanned diabolical jugglers stares at the ball intently; it gets upright and remains suspended in the air. It only proceeds on its way when a player has bestowed a nod on approval on it.

After the third tap at a bully, 99 times in 100 the Indian stick is first on the ball. Away flies the ball. One of the azure blues sees that it is going too far, and he pull the elastic with which he has attached the magical object to his person. Immediately the ball returns on its track and humbly asks his behests. It then docilely obeys the command issued to it.

During the interval, Europe declines in the drawing room, having its little knees, muscles and tendons massaged. The Indian stands and chats in the raw cold, stick under the supple arm, sucking a lemon. Two worlds wide apart.

This is no longer the game of hockey. It is a juggling turn. It is splendid.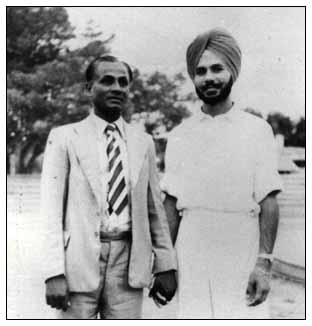 The Author with Hockey Wizard Dhyan Chand