The Golden Hat-Trick
The Autobiography of Balbir Singh (Senior)
By Samuel Banerjee, Vikas Publishers, 1977
Page 1
Page 2
Page 3










Page 4
Page 5
Page 6

Celebrations at Home

I went to my village to meet father, mother and Sushil. Moga gave its hometown hero a royal welcome. Huge arches were set up across the streets in my honour.

Riding an open van, with my thrilled wife by my side, and my proud parents in the rear, I was virtually crushed by the weight of the garlands, flower petals and confetti that the people showered at me.

Page 7
Page 8
Page 9
Page 10
Page 11
Page 12

ombay literally unrolled its biggest red carpet. We were swept off our feet, and it was here that I realized what victory meant to our nation. Hockey was the only sport that gave the country a ray of golden hope, something to shout about.
In Delhi, President Rajendra Prasad and Prime Minister Jawaharlal Nehru came to see a match that had been arranged at National Stadium. The press claimed that 70,000 people watched the match that day at National Stadium. A huge roar went up when I scored the only goal of the match to give the Olympians victory.
When someone asked Nehru how he liked the game of the Olympians, he remarked, "The crowd was very thick and people were piling over each other. I could not see the match at all!" Nehru, warm and humane as he always was, hugged and patted each one of us. He told us, "Look to the next challenge and prepare for it in right earnest."
Enthusiastic spectators hoisted us on their shoulders and patted us and touched us as if they were paying tribute to heroes returning home from a fierce battle. The crowd tossed me about and I enjoyed it. In the melee, my first Olympic blazer was torn. It was embarrassing for India's top goal getter to go about in clothes not befitting him, yet the moment was so exhilarating that I forgot my woes.
I went to Moga to meet father, mother and Sushil. Moga gave its hometown hero a royal welcome. Huge arches were set up across the streets in my honour. Riding an open van, with my thrilled wife by my side, and my proud parents in the rear, I was virtually crushed by the weight of the garlands, flower petals and confetti that the people showered at me.
Amid all the celebrations, I only saw myself as a little boy, suddenly grown big, still touching the feet of grown-ups and seeking their blessings. The people's pride was natural; I had come home from London with free India's first major achievement in the world of sports.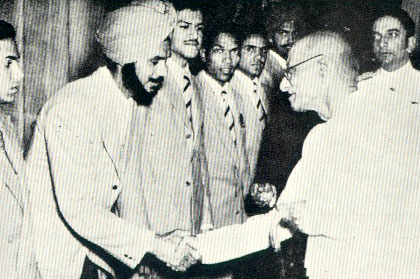 Rajaji Congratulates the 1948 Olympic Champions