The Golden Hat-Trick
The Autobiography of Balbir Singh (Senior)
By Samuel Banerjee, Vikas Publishers, 1977
Page 1
Page 2
Page 3










Page 4
Page 5
Page 6

Celebrations Abroad

1948 was my first visit to Paris. We saw a performance at the "Folies Berger".

Trained as our eyes are to women covering their heads and walking coyly back home, the show of bare thighs, legs and midriffs was nothing more than a novel experience.

We returned to England, and boarded our ship at Liverpool for the return journey.

Page 7
Page 8
Page 9
Page 10
Page 11
Page 12

fter the victory, V. K. Krishna Menon, free India's first High Commissioner in London, came running to congratulate us. He joined us for a group photograph. Later, he also gave an official reception at India House, where a big gathering of sports lovers was present.
The Olympics over, we went to the European mainland and visited France, Czechoslovakia and Switzerland. This brief tour, a fortnight in duration, was more of a goodwill nature, and earned India a great deal of fame. None of us had visited Europe before, and we were thrilled by the sights we saw.
1948 was my first visit to Paris. We saw the world famous performances at the "Folies Berger". Trained as our eyes are to women covering their heads and walking coyly back home, the show of bare thighs, legs and midriffs was nothing more than an experience which I had never beheld before.
We returned to England and reached Liverpool to board our ship for the return journey. The ship's ports of calls presented enchanting sights - at Port Said there were jugglers, and a number of them set up impromptu shows for the benefit of the passengers. We also got off at Aden and visited places of interest. At some ports, Indians who got wind of our arrival gave us small receptions on board the ship.
When we reached Bombay, our ship was caught up in the low tide. We could see our Motherland, yet we were stranded for two days till the tide returned and our ship was able to berth at the port. A number of venturesome youths even sailed out to sea to cheer us.
We were told that crowds had been coming and pestering the port authorities about when the team would come. There was a huge reception awaiting us in Bombay.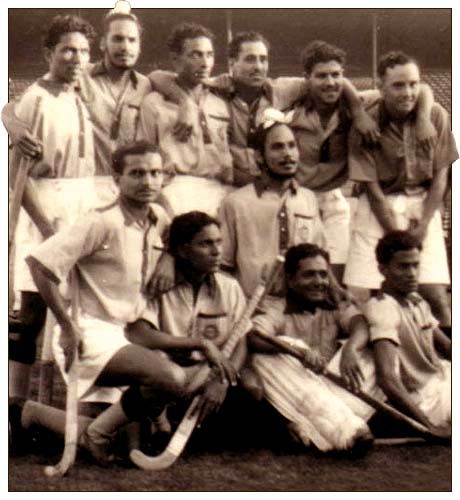 1948 Olympic Hockey Champions