The Golden Hat-Trick
The Autobiography of Balbir Singh (Senior)
By Samuel Banerjee, Vikas Publishers, 1977
Page 1
Page 2
Page 3










Page 4
Page 5
Page 6

Author's Preface

Her love for me was eternal. Our love blossomed in London. We married in Helsinki and honeymooned in Melbourne.

After a period of 11 long years, my fairy of the Heavens took me to Kuala Lumpur, and we were again on top of the world.

She vanished again, but with a promise that she would return. I am waiting for her - my hockey fairy. She must come.

Page 7
Page 8
Page 9
Page 10
Page 11
Page 12
was born in a village. After a few years, my parents brought me to a small town. There I saw her for the first time.
I liked her, respected her, loved her and worshipped her. She became my Goddess, my first love and my darling.
She took me along to new pastures and new places in different countries all over the world. Wherever we went, we were accorded royal receptions. She taught me the qualities of sportsmanship.
Her love for me was eternal. Our love blossomed in London. We married in Helsinki and honeymooned in Melbourne.
After a period of 11 long years, my fairy of the Heavens returned to me as fresh and charming as ever. This time she took me to Kuala Lumpur, and we were again on top of the world.
She vanished again, but with a promise that she would return. I am waiting for her - my hockey fairy. She must come.
This is the story of my life, which would have been incomplete without the devotion and dedication of my life companion Sushil.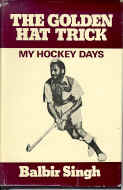 The Golden Hat-Trick