The Golden Boot
Triumph and Trauma of a Coach
M. K. Kaushik with K. Arumugam
Page 1
Page 2
Page 3










Page 4
Page 5
Page 6

Where is the Money?

After my appointment as the chief coach of the national team in 1998, I telephoned Shri R. R. Jowel, Director of Sports, who was also my controlling officer.

Instead of wishing me good luck, or extending words of encouragement, he went hammer and tongs at me - how did you go to Chennai without my permission? Why does not the IHF write to me requesting your services? Why was this decision taken so suddenly?

Page 7
Page 8
Page 9
Page 10
Page 11
Page 12
am from a middle class family. My only source of income is the salary. Absenting from duty for sports purposes has always been a problem area.
I first faced this issue in 1989 when I joined M. P. Ganesh as the assistant coach in the national camp. I had to forgo my part-time assignment with IFFCO, which meant a loss of Rs. 3000 per month.
I faced a similar situation when I took up the job as the chief coach of the Indian women's team in 1991. I was then working as an Accounts Officer with Tata Oil Mills, New Delhi. The personnel manager of the firm refused to sanction leave for more than one month. He asked, "When you work for the nation, why can't the government pay your salary?"
Luckily for me, IWHF president Ms. Arnawaz Damania took up the matter with the top bosses in Mumbai and got me leave with salary granted for 1 year.
After an year passed, I pleaded my case with Ms. Asha Swaroop, the then Joint Secretary in the Ministry of Youth Affairs and Sports. She saw to it that the Sports Authority of India reimbursed my salary to my employer. Even she could not help me get full reimbursement, as nearly four months of my salary were adjusted against my own leave.
After my appointment as the chief coach of the national team in 1998, I telephoned Shri R. R. Jowel, Director of Sports, who was also my controlling officer. I told him about my trip to Chennai, my new assignment with the national team, and placed a request for sports leave to take up the job.
Instead of wishing me good luck, or extending words of encouragement, he went hammer and tongs at me - how did you go to Chennai without my permission? Why does the IHF not write to me requesting your services? Why was this decision taken so suddenly? Do you know that your file has to go all the way to the Chief Minister's level?
I ran out of patience and said, "Okay sir, if you feel so, I will not go to the camp. I will give it all up." Suddenly he changed his tone and started explaining how it was administratively difficult for him to get long leaves sanctioned.
I too understood his constraints. Here the IHF has a definite role to play. This embarrassing situation would have been averted had anyone in the IHF talked to my Director, or at least had the courtesy to write to him. I gave the contact details of my bosses to IHF president Gill, IHF secretary Jyothikumaran and IHF senior vice president M. S. Balakrishnan, but none took the pains despite assurances. I ended up facing the music for no fault of mine.
My purpose of detailing these incidents is not to derive any sympathy. I want to drive home the point that behind any sporting endeavour there lie many untold stories and unforced bits of sacrifice. My objective was to give the readers a glimpse of this reality.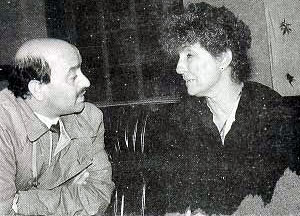 Arnawaz Damania - She Gave Me Full Freedom