The Golden Boot
Triumph and Trauma of a Coach
M. K. Kaushik with K. Arumugam
Page 1
Page 2
Page 3










Page 4
Page 5
Page 6

The Telephone Call

He then threw at me the shock of my life when he asked me whether I was interested in becoming the chief coach of the Indian men's hockey team. The offer came to me like a bolt from the blue, and I asked him for a week's time to think the matter over.

Habitually, I fall asleep as soon as I go to bed. But that night was different, I did not get sleep for another 2 hours. My mind was filled with anxiety and curiosity in equal measure.

Page 7
Page 8
Page 9
Page 10
Page 11
Page 12

fter a routine hectic day at my Gurgaon office, where I worked as Deputy Director (Hockey) in the Haryana Sports Department, I was in my dining room on June 10, 1998. It was around 9 o'clock in the night. My brother Mukesh, my wife Usha, and my children Nishant and Eshan were having dinner when the call came. It was from M. P. Ganesh, who is a friend, philospher and guide to me.
Ganesh was one of the top bosses at the Sports Authority of India - he is the Executive Director posted at the Southern Centre in Bangalore. He used to fly to Delhi in the morning to attend a meeting or two and fly back home in the evening. Hockey was this former Indian World Cup captain's companion, comfort and consolation. I became energetic on hearing that he called, knowing that attending to his call would enthuse my spirit.
Ganesh informed me that he had been appointed as the chairman of the Coaching Committee of the Indian Hockey Federation (IHF). He had assured the IHF of a medal in the upcoming Commonwealth Games, and 'nothing short of a gold in the Asian Games'.
He then threw at me the shock of my life when he asked me whether I was interested in becoming the chief coach of the Indian men's hockey team. The offer came to me like a bolt from the blue, and I asked him for a week's time to think the matter over.
I went for a walk with my wife that night, which turned into a brain-storming session. She expressed concern about the education of my elder son, fearing that my absence would hamper his studies.
I knew her psyche well. I was confident that irrespective of what she said then, she would completely back me once I took a decision. This is the traditional ethos of Indian womenfolk, which I always recognised in her.
Habitually, I fall asleep as soon as I go to bed. But that night was different, I did not get sleep for another two hours. My mind was filled with anxiety and curiosity in equal measure. Ganesh's words 'nothing short of gold in the Asian Games' did not stop ringing in my ears.
My mind was occupied with three main issues. The foremost aspect was the coach-IHF relationship. It had always been strewn with thorns, and had never evolved on a sound footing. Coaches were subject to officialdom's whims and fancies, with most of the coaches given woefully short tenures. Coaches were pawns in the politics of the IHF, working under stiffling and suffocating environs.
The second aspect was the coach-player relationship, which had reached its nadir. The present Indian team was not playing well. They lost test series against both Germany and Pakistan, came last in the 4-nation Colorado Cup in Australia, and came a humiliating 9th in the Utrecht World Cup. Outgoing coach Vasudevan Bhaskaran's comments on a few senior World Cup players left a bitter taste in everybody's mouth.
Thirdly, planning had always been a casualty in Indian hockey's scheme of things. The current setup headed by Kanwar Pal Singh Gill had not proved to be any different. Probably India is the only nation among leading hockey powers that is unable to chart out a clear cut calendar of activities for the year.
Despite all these problems, I was reluctant to say no to Ganesh, who was in a class of his own. He was not to be denied for long. Within a week of the first call, he was again on the phone to inform me that he had already proposed my name to the IHF, and that I should go to Chennai where the Murugappa Gold Cup would be starting in a week's time. The IHF had decided that this tournament would be the basis for selecting probables for the Commonwealth Games.
I applied for sports leave from my department from July 15 to July 27, 1998. I was off to Chennai as an 'observer', since I had not yet been officially named coach by the IHF.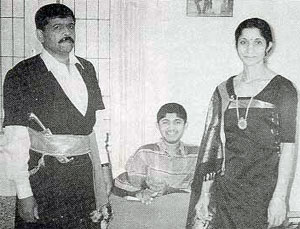 Olympian M. P. Ganesh with his Family