The Golden Boot
Triumph and Trauma of a Coach
M. K. Kaushik with K. Arumugam
Page 1
Page 2
Page 3










Page 4
Page 5
Page 6

Dhanraj and Jyothi

Exchange Angry Words

One of Jyothi's Malaysian friends used to prick Dhanraj at every available opportunity. "You are missing too many goals" used to be his constant refrain.

Then there was Jyothi's pro-Prabhakaran tilt. Though we had five reserve players, Jyothi would often tell me that I should have substituted player X or Y with 'Prabha'. Was the fact that Prabhakaran was from the same home town as Jyothi an influencing factor?

Page 7
Page 8
Page 9
Page 10
Page 11
Page 12

fter the upset loss to Malaysia in the semi-final came the bronze medal match with England. We played below our potential, probably because the hangover of the semi-final loss had not yet faded.
IHF secretary Jyothikumaran, who was here as one of the judges, made things difficult for us. He entered the Indian dressing room at the half-time break and provoked Dhanraj in Tamil. Now Dhanraj is always a sentimental person and needs careful handling. Whatever he heard, Dhanraj turned volatile, furious and unstoppable. He replied to Jyothi in Hindi in a high pitched tone intentionally for others to hear, "I am still the best. I know you want to play Prabhakaran in place of me. Let's do one thing. I will sit while you go and play instead."
We were all taken aback by this reply. Jyothi was stunned. Assistant coach Ramesh intervened and persuaded Jyothi to leave the room, not before Jyothi told us that this was in fact his room!
Hockey is a very exacting game. Players will not be in their normal selves during the course of any match. What the players look to at half-time is a few words of encouragement, physical comfort, relaxation and ways to recharge their batteries. As secretary of the IHF, Jyothi's action was so unbecoming of his stature that it upset the whole team.
Dhanraj's anger was not a one-off affair but was built over time. One of Jyothi's Malaysian friends - he has many there since Jyothi has business interests in Malaysia - used to prick Dhanraj at every available opportunity. "You are missing too many goals" used to be his constant refrain. He said so during practice sessions, in the Games village, and in front of other team mates.
This pent up anger was further accentuated by Jyothi's pro-Prabhakaran tilt. Even while sitting on the technical bench, he used to encourage Prabhakaran by shouting 'Go up', 'Score' and words to that effect. Many times he used to tell me that I should have substituted player X or player Y with 'Prabha'. We had five reserve players. But never did Jyothi suggest Cheops D'Costa for Barla, or Gagan Ajeet for Dhanraj or Daljeet Singh for Mohammad Riaz, to name a few possibilities. Was the fact that Prabhakaran was from the same hometown as Jyothi an influencing factor?
But one thing I would have to say. Any other official who had got such a bad abuse from a player would have prevented Dhanraj from getting selected for any other tournament, but Jyothi backed him for the Asian Games. Probably Jyothi felt that he was in the wrong.
Before this sordid episode, we were leading 1-0. In the second half, England equalised. In the ensuing tie-breaker, all four players scored for England, while Baljeet Dhillon and Mohammad Riaz missed for India. We lost the bronze medal match 4-2 in the tie-breaker. We had let down the nation badly. We could not match even the minimum aspirations of millions of sports lovers back home.
On the closing day of the Games, we were invited for a party by the IHF president and secretary. I always had a dislike for late-night parties and refused. However, the manager told me that this was to discuss plans for the Asian Games. Therefore, I joined assistant coach Ramesh and manager Balakrishnan and reached the venue by taxi.
However, Gill left before we joined the others. After the party, Jyothi talked very badly about Dhanraj and Gill. Even one of his chamchas wondered how Jyothi could have such bad words for his own captain and president. He then proceeded to talk badly of Ramesh too. No strategy was discussed except listening to Jyothi's babblings.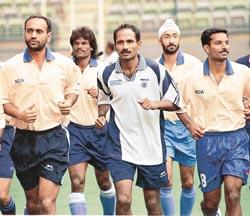 Indian Team Warming Up
Photo Courtesy The Hindu