The Golden Boot
Triumph and Trauma of a Coach
M. K. Kaushik with K. Arumugam
Page 1
Page 2
Page 3










Page 4
Page 5
Page 6

Malaysian Black Magic

A day before the crucial semi-final, Cedric contacted me on the phone and asked me about the strategy of the Indian team. Cedric was in Kuala Lumpur as an expert commentator for ESPN.

Since Cedric was very close to Paul Lissek, I did not reveal my mind, but instead, asked him about the Malaysian strategy. Cedric told me that he would contact me the next day, but expectedly, that did not happen.

Page 7
Page 8
Page 9
Page 10
Page 11
Page 12

e came face to face with Malaysia in the semi-finals, with Australia playing England in the other semi-final. In a crucial pool match, England had surprised strong contender Pakistan to move to the semi-final stage.
I genuinely felt that Malaysia was an easy team to beat. But with a man of the stature of Paul Lissek as their coach, we could not afford to take things lightly. Lissek is one of the top hockey brains in the world, who has shown results on the field and not on the blackboard. He can transform a mundane side into a master outfit with measured tactical inputs.
In our match, he pulled some forwards and placed them in the rear. They mainly relied on counter-attacks for their goals. They avoided the central area and mainly used the flanks. Their set-piece drills were near flawless.
A day before the crucial semi-final, Cedric contacted me on the phone and asked me about the strategy of the Indian team. Cedric was in Kuala Lumpur as an expert commentator for ESPN. Since Cedric was very close to Paul Lissek, and I knew that he was in contact with Lissek, I did not reveal my mind, but instead, asked him about the Malaysian strategy. Cedric told me that he would contact me the following day, but expectedly, that did not happen.
In the semi-final, we outclassed Malaysia in every department of the game. Malaysia on that day was nothing compared to us. Till date, I cannot believe we ended up losing that match. Nowhere in my life I saw a team miss so many easy chances.
Lady Luck was simply not on our side. Take for example a goal-borne push by Dhanraj. This occurred when Dhanraj was one-on-one with the Malaysian goalkeeper during sudden death. The ball went through the goalkeeper's legs only to get deflected from the back side of his heels. In 99 out of 100 cases, the ball would have found home. But this day, it did not.
We shot at their goal 13 times, compared to only 3 by Malaysia. India had 8 penalty corners and Malaysia only 3. But a chance deflection in Malaysia's third penalty corner in sudden death extra time - chance because it came off a third rebound - won the match for Malaysia.
On returning home, I read a lot about this match. Many termed it as a revenge match for India's victory over Malaysia in the semi-final of the 1975 World Cup. I know that match was played on different venues over 3 days due to rains. But I am sure we had not dominated them on that day like we did in this semi-final. The only irony was that we won the 1975 semi-final through a penalty corner goal by Aslam Sher Khan (my first captain), while Malaysia won the 1998 semi-final through a penalty corner goal by Mirnawan Nawawi.
I don't think anybody in our team slept that night. The players were upset, silent, did not take food properly and were totally demoralised. As is my wont, I did not reprimand or condemn anybody.
Mukesh Kumar jocularly remarked later that the Malaysians might have carried out 'Black Magic.' He had played club hockey a couple of seasons in Malaysia, and he told us that they would often soak a piece of mutton in an alcoholic drink and sprinkle it around the goalposts to spoil the rival's fortunes. Black magic nor not, it was undoubtedly a black day for the Indian hockey team.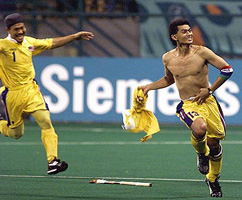 Malaysia Upset India, Mirnawan Celebrates
Photograph Courtesy The Star of Malaysia