The Golden Boot
Triumph and Trauma of a Coach
M. K. Kaushik with K. Arumugam
Page 1
Page 2
Page 3










Page 4
Page 5
Page 6

Why Did I Venture?

This book would not have originated but for a strange scenario that developed after the Bangkok victory. The significance of the landmark success and its prime contributors were sought to be diluted.

This campaign of calumny and intellectual persecution only made Kaushik more dogged and focussed. This was the cauldron of emotion on which this present work took its origin and grew.

Page 7
Page 8
Page 9
Page 10
Page 11
Page 12

I am a 1980 Moscow Olympics gold medallist, who also had the honour of training the Indian team that won the Asian Games hockey gold in 1998. My Olympic gold came after a gap of 16 years for India. Regaining the elusive Asian Games gold took twice as long, that is, 32 years.
For a country that had not won any major hockey title after the 1980 Olympics, the 1998 Bangkok victory turned out to be a defining moment in the history of Indian hockey. I witnessed how a singular success can transform the morale of the players and rekindle the passion for the game across the nation.
My aim in this book is to describe the events in a chronological manner, analyse them for the benefit of posterity, and throw light on the technical aspects. The efforts put in by the players, coaches, Sports Authority of India and the Indian Hockey Federation can be understood in true perspective. I hope the technical details will engender a healthy debate and form the basis for future improvement.
Finally, I tried to evaluate the players of the 1998 Asian Games hockey team with the sole intent of improving their technical shortcomings. Hence I hope it will not be construed otherwise. - M. K. Kaushik
Author's Note

'The Golden Boot' is hockey's first-ever event-specific book dealing with a single hockey event - the 1998 Bangkok Asian Games hockey tournament. As a concept, its contents fall into two parts. The first one is technical preparedness - any victorious coach would like to share his experience, so also Maharaj Krishan Kaushik.
The other part would not have originated but for a strange scenario that developed after the Bangkok victory. The significance of the landmark success and its prime contributors were sought to be diluted by a section of the guardians of the game. Technically unviable and statistically unsustainable statements were thrown for public consumption. The coach and the leading players were sacked even before their tears of joy had dried up.
Normally, in such a stiffling atmosphere, the persona of the targetted coaches perish with the passage of time; and they reconcile to suffer in silence. However, this campaign of calumny and intellectual persecution only made Kaushik more dogged and focussed. This was the cauldron of emotion on which this present work took its origin and grew.
This book turned out to be not only the document of a success story, but also the instrument of a victorious coach's indignation. This is not a soliloquy of a coach, but the battle cry of a valiant fighter who doesn't sit on his laurels. - K. Arumugam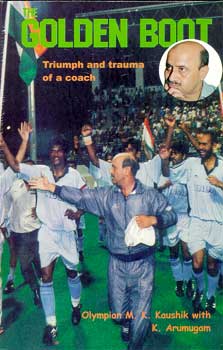 Front Cover of The Golden Boot