The Golden Boot
Triumph and Trauma of a Coach
M. K. Kaushik with K. Arumugam
Page 1
Page 2
Page 3










Page 4
Page 5
Page 6

The IHF's Bundle of Lies

Seven months after the sackings, Gill was at his wits end having to repeatedly explain that only the senior players were sacked. He then changed the phrase 'senior players' to 'older players'. Again this turned out to be a bundle of lies.

Then Gill said, "I found that our players could not last more than 20 minutes in a game of 70 minutes." This statement by Gill is nothing short of nonsense.

Page 7
Page 8
Page 9
Page 10
Page 11
Page 12

shish Ballal, Dhanraj Pillai and myself castigated the IHF for its wrongdoings in our interviews. These views were highlighted by the press and television for some time.
Even now, many months after those statements were made, I do an occasional post-mortem of everything that my boys and I said. Especially when I drive to distant Gurgaon, or travel by bus in remote parts of Haryana. In retrospect, I have no regrets about my outburst. I will not withdraw whatever was published or televised.
Because we were telling the truth. The fact is that the IHF does not want to be dictated by either the coaches or players. It does not want the coaches to have a say in the team selection. It does not want the players to make demands for better revenues and better facilities.
The IHF was afraid that our demands might assume serious proportion with our success in the Asian Games. Therefore, the IHF turned hostile towards the achievers.
First, the IHF planted rumours of my sacking in the press. I came across a story in the Hindustan Times under the caption 'Kaushik Sacking on the Cards' a week before the actual announcement.
Then, exactly 23 days after we won the gold in Bangkok, the IHF announced that Bhaskaran was the new coach of the Indian team, and that six players - Dhanraj Pillai, Mukesh Kumar, Ashish Ballal, A. B. Subbaiah, Sabu Varkey and Sandeep Somesh - won't be called for the upcoming India-Pakistan test series.
The entire nation was shocked. Gill did not specify any reason for my ouster, but every cleverly told that my name was in a (non-existent) coaching panel. I was not shocked at being unceremoniously dropped. I had sensed it a long time back. I was not the IHF's man, not bending over backwards to satisfy them, refusing to compromise on team selection even under pressure, and espousing the cause of the players.
Gill then rationalised that the six senior players were 'rested'. Two of the sacked players - Sandeep Somesh and Sabu Varkey - had less number of internationals than four players who were retained - Baljeet Singh Saini, Ramandeep Singh, Dileep Tirkey and Mohammad Riaz. So who exactly needed rest?
The irony is that the dropped trio of Ashish Ballal, A. B. Subbaiah and Sandeep Somesh played the least number of matches in the 1997-98 among the sixteen member Asiad team. Dileep Tirkey alone played in 43 internationals in that two-year span, compared to 10 by Ashish Ballal and 8 by Sandeep Somesh. It is astounding how the trio were branded 'tired' while players who played four times more matches than them were deemed 'fresh' enough to continue.
Seven months after the sackings, Gill was at his wits end having to repeatedly explain that only the senior players were sacked. He then changed his tune: "The term 'senior players' is not the right choice of words. If you change it to 'older players', then you will get the right perspective." Again, this turned out to be a bundle of lies.
Sandeep Somesh and Sabu Varkey were younger by 1-4 years to Mohammad Riaz, Baljeet Dhillon, Anil Aldrin and Thirumala Valavan. Goalkeepers Ballal and Subbaiah were 29 years and 30 years of age when dropped. Their replacement, Aloysius Edward, was older to both Ballal and Subbaiah. The other replacement, Jude Menezes, at 28 years, was not significantly younger. In fact, Jude made his international debut in the same year as them back in 1989!
Then Gill said, "I found that our players could not last more than 20 minutes in a game of 70 minutes." This statement by Gill is nothing short of nonsense. It is just not true that our players cannot play less than a third of the actual playing time. Also, if the seniors were dropped on the ground of fitness, were the ones who were retained the epitome of physical fitness?
Or perhaps Gill misread my scheme of rolling substitutions. I rested a few forwards often in the match mainly due to tactical and scientific reasons. Those 2-3 minutes of drink breaks cannot even by wild dreams constitute a fitness problem. That was only a technique to ensure that a load-taking player would perform at a peak level for most of the playing time.
The IHF's decision to drop the six players and the coach had nothing to do with merit, form or science of the game. Rather, it had everything to do with ego, economics and high-handedness.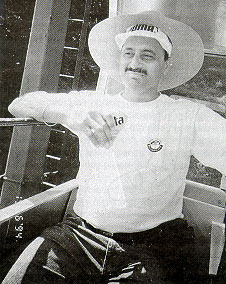 The IHF Plants Rumours of Kaushik's Sacking