The Golden Boot
Triumph and Trauma of a Coach
M. K. Kaushik with K. Arumugam
Page 1
Page 2
Page 3










Page 4
Page 5
Page 6

Celebrations At Home

My family said that the whole street in our neighbourhood had turned festive once we won the gold. Not often has such a spontaneous celebration taken place on our street. The sound of crackers kept on coming for hours. My family distributed sweets.

The telephone rang in our house almost continuously for three days. I also received about 40 telegrams from my friends and relatives.

Page 7
Page 8
Page 9
Page 10
Page 11
Page 12

e reached Delhi airport at about 1430 hours to a warm welcome. It was a moving scene for me to be greeted by my 75-year old mother, wife, children, brother Mukesh and neighbourhood friends. Parents of a few players, especially of the girls, were also there.
Sports Authority of India Executive Director O. P. Bhatia garlanded us. IWHF secretary Mrs. Amrit Bose, Indian Airlines Sports Control Board secretary M. S. Balakrishnan and the author of this book Arumugam were among others present at the airport. We were told that a huge crowd had collected the previous night, when we were scheduled to land in Delhi.
From the Indira Gandhi International Airport, we were taken to the Taj Mansingh hotel, a 15-minute drive. The excellent stay was once again arranged by the Tata Group, with Robert Lawrence being the man in charge of the affairs.
At the Taj, a traditional welcome was offered to us, with tilak on our foreheads and jasmine garlands around our necks. We felt like heroes as we walked to our rooms.
My family said that the whole street in our neighbourhood had turned festive once we won the gold. Not often has such a spontaneous celebration taken place on our street. The sound of crackers kept on coming for hours. My family members distributed sweets.
The telephone rang in our house almost continuously for three days. I got calls from my Tata Sports Club colleagues - Naseer Khan from Mumbai, Sanjay Tiwari from Lucknow, etc. In addition, international player B. Kaaliah, Baldev Singh from Shahbad, Prem from Ambala and Devraj Singh, among others, were on line to congratulate me. I also received about 40 telegrams from my friends and relatives.
The Indian Asian Games contingent had been sponsored by the Korean electronics giant Samsung. They threw a party to all the medal winners in the Taj. Two Punjab players - Baljeet Singh Dhillon and Ramandeep Singh - did not attend since they had to rush to Jalandhar. They were going to be promoted to the rank of Deputy Superintendent of Police.
The function in the Taj was presided by Ramakrishna Hegde, Union Minister for Commerce and Industry. An unending stream of well-wishers graced the occasion. Jyotirmoyee Sikdar was once again the toast of the party, having been adjudged the best athlete of the Indian contingent. She was given goods worth Rs. 5 lakhs by the sponsors. Also to catch the eye was boxer Dingko Singh, who had beaten the world champion to get a fantastic gold for India in the bantamweight category.
During the function, after all the medal winners in every discipline were introduced, the officials were also paraded on the dais. Unlike the other athletes, the hockey team did not applaud when the turn of their officials came.
I did not like the players' show of indifference in a public gathering. I scolded them. Their reply was unanimous. "Our officials do not deserve it."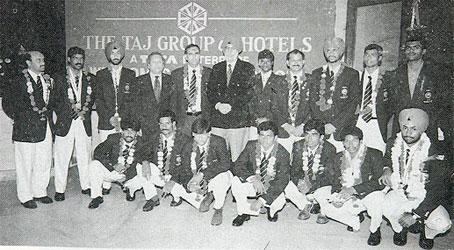 The Indian Team Felicitated at the Taj Mansingh Hotel in Delhi