The Golden Boot
Triumph and Trauma of a Coach
M. K. Kaushik with K. Arumugam
Page 1
Page 2
Page 3










Page 4
Page 5
Page 6

I'll Never Let My

Son Play Hockey

After a wait of five hours, we were to finally go to a hotel. When we came out to board the bus, journalists rushed towards us. We were tired and uninterested in talking to the media

I saw someone with a mike persisting with Dhanraj. Nobody was in a mood to leave him alone. Very typical of Dhanraj, he castigated everybody for this weary journey. And then he made a totally unwarranted statement: "I will never allow my son to take up hockey."

Page 7
Page 8
Page 9
Page 10
Page 11
Page 12

e boarded the plane at Bangkok for our return to Delhi via Kolkata. We were yet to see any IHF official, barring our manager, after the instant celebration on the ground three days ago. Where were all of them?
What a contrast to the scenario of 1980, when we won the hockey gold at the Moscow Olympics. The then IOC member Ashwini Kumar presented the gold medals to us. He had said, "I am honoured to give the Olympic gold medal to my boys."
He did not stop at that. He came with us to the village and spent many many hours with us. He gave our team dinner in his individual capacity. He stayed put with us till we left Moscow. We can never forget Ashwini Kumar's warmth.
This is what we all wanted in this hour of glory - togetherness, sharing of a joyous occasion, and friendly officials making us feel proud of our achievement.
My brother-in-law O. P. Sharma, the then Governor of Nagaland, spoke to me over the phone and congratulated us. My elder brother P. R. Kaushik and M. P. Ganesh also contacted me to share their joy.
In the flight, I was happy to meet air hostess Jennifer Paes, mother of tennis ace Leander Paes. She congratulated us and told us that her illustrious son would be coming to Kolkata airport to pick her up. Leander's father, Dr. Vece Paes, is a 1972 Olympic hockey bronze medallist, and has been a great influence on his son's sporting successes.
It was a happy coincidence for me that hockey great B. P. Govinda was on duty when we flew from Chennai to Bangkok, and Jennifer Paes was on duty on our return from Bangkok to Kolkata.
Our flight landed in Kolkata around 1700 hours. We saw a sea of humanity come to receive Jyotirmoyee Sikdar, who had won two individual gold medals in the middle distance races. We had a 45-minute halt in Kolkata, and we could see the whole celebration at the airport. Many vehicles formed part of the long procession. She was flooded with garlands. It was a great sight to watch.
Officials of the Bengal Hockey Association (BHA), one of the oldest hockey associations in the Indian subcontinent, greeted us. BHA secretary and my former coach, Olympian Gurbaksh Singh, awarded us a purse of Rs. 50,000. We all equally shared the amount. We were happy to be greeted by 4-time Olympian Leslie Claudius, international Bharat Chopra, and a few other players.
Around two hours later, we were on the skies over Delhi. We were to land in a few minutes. But, to our surprise, the flight kept hovering in the sky. Because of foggy conditions at Delhi airport, our flight was diverted to Mumbai, a journey of another two hours. We landed in Mumbai around 10 pm.
Our ordeal started from here. No arrangements were made by the airport authorities for our boarding and lodging, till another flight was arranged. Despite hectic efforts by the IOA officials, headed by G. S. Mander, things did not move the way they should have.
Even the minimum facilities one gets at airports became scarce. Most of us had to squat on the floor. Visibly tired girls were seen sleeping on the floor.
Luckily for us, Negi made things a bit comfortable. Since he worked for the Customs, and lived in a quarter close to the airport, his wife and a host of Customs officials soon reached the waiting hall. They used whatever power they could to provide us facilities. They also arranged dinner for us.
After a wait of four to five hours, we were to finally go to a hotel. When we came out of the waiting hall to board the bus, many journalists came running towards us. We were very tired, and not interested in talking to the media. Most of us spoke to the press half-heartedly.
I saw someone with a mike persisting with Dhanraj. I heard him tell, "I don't want to talk to anybody." But nobody was in a mood to leave him alone. Very typical of Dhanraj, he castigated everybody for this weary journey. And then he made a totally unwarranted statement: "I will never allow my son to take up hockey."
Anyway, we got our rooms allotted by 2 am, and were told to be ready after breakfast for our onward journey to Delhi. When we woke up in the morning, the newspapers were full of the players' interviews.
What was the centre-piece of all the headings? None other than Dhanraj's off-the-cuff remark that he will never allow his son to take up hockey. Even he must have been surprised to see his casual words screaming out of every newspaper.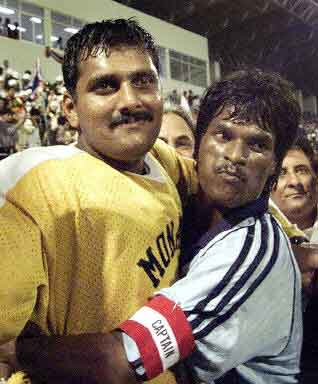 Indian Team Celebrates Historic Victory
Photograph Courtesy Sportstar